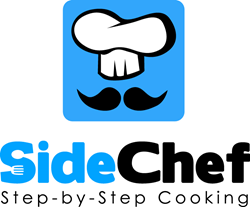 We're excited to bring the SideChef experience to the huge Android mobile community so everyone can feel good about cooking in the kitchen.
Los Angeles, CA (PRWEB) November 11, 2014
Leading step-by-step cooking app SideChef today launched its Android app, which will allow millions of Android users worldwide to easily gain the skills they need to cook. The app gives users access to over 1,100 recipes from top chefs, bloggers, and foodies, and teaches even inexperienced cooks how to master cooking techniques with voice, photo and video instructions.
"There isn't any other cooking app that offers the same depth of guidance that SideChef does," says SideChef CEO and founder Kevin Yu. "Our goal will be to continuously improve on that experience and then offer it free to as many people as possible. Thus, we're excited to bring the SideChef experience to the huge Android mobile community so everyone can feel good about cooking in the kitchen."
SideChef is the perfect app to inspire individuals who want to expand their cooking skills. SideChef offers cooks of all levels features that make it simple and easy to make any of the recipes on the app. Each recipe includes beautiful imagery as well as detailed step-by-step instructions to create the private cooking lesson experience. Helpfully, automatic timers are included to ensure that every detail is taken care of, worry-free.
With even more users on SideChef's app, the community can choose from a growing collection of recipes from varying regions and with unique tags. A large selection of recipes for certain dietary restrictions, such as gluten-free, vegan and vegetarian, are already on the app, and more holiday-specific recipes are being added throughout the season.
Shopping lists can now be shared between Android and iOS users, and when planning for a party, recipes for dishes can be shared with even more guests. All recipes can be adjusted to party size and measurements even changed between US and metric.
SideChef is motivating a growing community of cooks both through its features that are now available to more smartphone users as well as its gamification features to encourage them to try new cooking techniques and recipes.
SideChef will be hosting an Android kick-off party on November 15 at 18 Reasons where they will serve delicious food and beverages, provide giveaways as well as invite attendees to create dishes following SideChef's recipe directions. This will allow individuals to follow SideChef's audio and visual instructions as well as navigate throughout a recipe using the app's voice command technology.
To test the SideChef app both on Android as well as iOS devices, SideChef is looking for 20 users to participate in a "test kitchen" where they will test and cook one to two recipes a week at home from SideChef's recipe collection. This will allow them to provide valuable feedback to SideChef's team for the three weeks the test kitchen is taking place. For participating, users will receive $25 in groceries each week to put towards the SideChef meals. To apply, fill out the form at http://www.sidechef.com/testkitchen by Friday, November 14th.
About SideChef
SideChef is a step-by-step cooking app designed to bring innovative technology to the world of cooking. By displaying detailed photography and written instructions for every step in a recipe, users can cook with confidence to prepare over 1,000 recipes from more than 100 food bloggers worldwide. The recipes cover diverse cuisines and cater to many special diets including gluten-free, vegan and low-fat. SideChef connects cooks of all levels based on their shared passion. Launched in March 2014, SideChef is a Los Angeles-based company founded by Kevin Yu, video game industry veteran and former global manager for community development for World of Warcraft at Blizzard Entertainment. Yu applied his extensive technology and gaming background to enhance the cooking experience for novice cooks. For more information please visit http://www.SideChef.com.