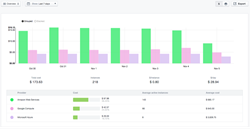 SAN FRANCISCO, Calif. (PRWEB) November 11, 2014
Today, ElasticBox announces the launch of Cloud Reports to help companies manage and control their cloud footprint and resulting costs across cloud service providers.
According to IDC, in 2013 alone businesses poured $3.6 billion into cloud infrastructure and services. What's more, ElasticBox has found that more than 50 percent of its customers companies today use more than one cloud provider. As more companies disperse their resources across multiple cloud services, it's increasingly difficult for them to fully understand the return on those investments.
Enter ElasticBox Cloud Reports, a new product that aims to help companies manage their spend and monitor usage across multiple cloud platforms all in one place. Beyond spend-tracking or reporting, it provides insights into how teams or applications are using resources so companies can optimize costs for each provider and deploy resources where they make the most sense.
With ElasticBox Cloud Reports companies can:

Get an overview of how much money they're spending on infrastructure, broken down by region--even shadow IT
Track spending on cloud providers such as Amazon Web Services (AWS), Google Cloud, and Microsoft Azure
Compare usage and money spent on one cloud versus another
Create cost centers and budgets for different teams, applications, or projects to track usage and budgets
"ElasticBox Cloud Reports is going beyond application delivery to solving a real pain point that many of our customers have." explained Ravi Srivatsav, CEO and cofounder of ElasticBox. "What we've created goes beyond the status quo to provide rich and deep features which are especially useful for business to fight shadow IT, organize resources across development teams and regulate their use of the cloud."
To learn about how Cloud Reports can help your business, please visit this link: https://elasticbox.com/blog
More information about ElasticBox can be found here: https://elasticbox.com/blog/cloud-reports/
About ElasticBox
Founded in 2011, ElasticBox is a DevOps platform that streamlines the development, deployment and management of multi tier applications across any cloud. Developers and IT operations can collaborate to create a catalog of applications and infrastructure components that can be consumed as a service. Once defined, applications can be seamlessly deployed and managed in any cloud environment.
ElasticBox's investors include: Nexus Venture Partners, Intel Capital, Sierra Ventures and a16z seed.
Media Contact
Creighton Vance
VSC on behalf of ElasticBox
creighton(at)vscpr(dot)com
415.497.5465