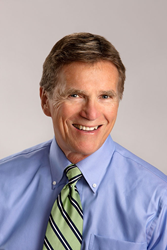 Frank Davis, founder of Food for Health International, Activz Whole-Food Nutrition and Ernst & Young Entrepreneur of the Year, will be a guest speaker at the University of Utah
Salt Lake City, UT (PRWEB) November 13, 2014
The David Eccles School of Business at the University of Utah is pleased to announce Frank Davis, founder of Food for Health International, Activz Whole-Food Nutrition and Ernst & Young Entrepreneur of the Year, will be a guest speaker Thursday, Nov. 13 at 4:30 p.m. in the Spencer Fox Eccles Business Building (room LL130) at the University of Utah. The lecture is open to the public.
As an entrepreneur for more than 40 years, Davis has started and built several multi-million-dollar companies. His successes amid the challenges show a consistent ability to innovate and adapt in an ever-changing business environment.
Davis is an entrepreneur for good health, an award-winning amateur athlete and a whole-food health advocate. Davis's entrepreneurial mindset and consistent ability to adapt to changing business environments has produced several well-known, successful companies. His most recent ventures are: Food for Health International, Activz Whole-Food Nutrition and Food Supply Depot.
Davis has always been actively engaged in volunteering and giving back to the community. Charitable donations are a long-standing part of Davis's life and part of the culture that he instills at Food for Health. In recent years, he has donated thousands of pounds of food after the Japan tsunami, Haiti earthquake and the attacks of September 11. He also provided 5,750 servings of food to the Engaged Now Foundation to feed mothers and children in Ethiopian villages hit by drought, and just last year, Davis donated $500,000 of premium, complete meals to the Utah Food Bank and Feed America.
The Entrepreneurial Marketing class (ENTP 2010), taught by author, marketing entrepreneur and national talk radio host Kim Power Stilson, is part of the David Eccles School of Business, which offers an undergraduate Interdisciplinary Certificate in Entrepreneurship. The certificate's innovative and highly collaborative curriculum is intended to complement every major and teaches students how to create, test and launch new ventures.
For more information about Davis, see his story or visit his LinkedIn profile.
For more information about the University of Utah Entrepreneurial Marketing class, visit http://gotentrepreneurs.com/
About Frank Davis and Food for Health International:
Over the years and through a debilitating illness, Davis developed a passion for real nutrition and emergency preparedness. Davis's innate entrepreneurial skills identified another key niche market: he recognized the need to simplify emergency preparedness for most of the world's population. He created quick-prep, healthy emergency foods that did not require much storage or rotating bulk staples. Davis's line of complete and balanced meals is packaged in family-serving pouches extending shelf life unlike bulk items that are exposed to air each time they are opened. This resourcefulness launched Food for Health International.
Humanitarian organizations around the world speak highly of Davis. Feed the Children calls his nutrient-dense foods "the ideal product line for addressing the issue of hunger and nutrition." The Humanitarian Resource Center of North America used the food products to feed thousands of children in Romania, Ghana and Ethiopia. The Peoria Rescue Ministries says they "can think of no other organization that has a better opportunity of overcoming hunger and malnutrition than Nourish the World and its army of ambassadors. (They) personally thank Frank Davis and his co-workers for the thousands of meals donated."
At Food for Health, Davis believes in creating a company culture of caring and well being–financially, physically and emotionally. He does this by encouraging healthy living with a corporate wellness plan. Employees are also given the opportunity to improve financially with a generous benefit package, bonuses through a company profit-sharing program and employee recognition incentives. Employee loyalty and satisfaction has always been an essential part of Davis's philosophy. http://www.foodforhealthinternational.com and http://www.activz.com