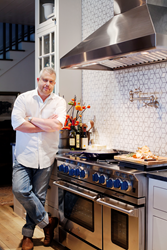 It's rewarding to know that some of the country's greatest chefs rely on BlueStar and Prizer Hoods products to recreate that restaurant-quality cooking experience in their own homes.
Reading, PA (PRWEB) November 12, 2014
A Texas native who is taking the Atlanta, GA restaurant scene by storm, James Beard Foundation Award nominated Chef Ford Fry is also heating things up at his new Atlanta-area home with a BlueStar® commercial gas range and custom Prizer Hood. With five successful restaurants– JCT. Kitchen & Bar, no. 246, The Optimist, King + Duke, and his newly-opened Atlanta gem, St. Cecilia – Fry knows his way around the kitchen. His restaurants have received accolades as America's best restaurants in publications like Bon Appétit, GQ, and Esquire.
For the ultimate chef kitchen at home, Chef Fry recently selected a BlueStar® 48-inch Platinum™ Series Range in stainless steel and added his own personal touch with Azure Blue knobs. Fry completed his sleek, sophisticated kitchen with a 54-inch Prizer Hood from the Hampton line, also in stainless steel.
"Two major reasons as to why I chose BlueStar®," explains Fry. "First, way too many commercial ranges just look commercial; I wanted the power I get at work. Then, the star shaped BlueStar burner with an open flame is such a no-brainer as it heats the pan more evenly and with more precision."
The new BlueStar Platinum Series PrimaNova™ burners deliver 25,000 BTUs of high concentrated heat, ideal for searing and achieving an ultra-rapid boil – more than three minutes faster than current, already high-performing professional ranges. BlueStar's classic open burner design ensures that heat is evenly distributed across the bottom of the entire pan, with no hot spots around the edges. Combining the PrimaNova™ burners with any combination of 22,000 BTU, 18,000 BTU, and 15,000 BTU and 130 degree simmer burners allows anyone to customize power options to meet personal cooking requirements. Handcrafted in Reading, Penn., the Platinum Series also features an interchangeable griddle/charboiler plus an extra-large convection oven with an innovative PowR® Oven.
Professional level cooking equipment needs to be paired with correct ventilation to maximize results. One of the first considerations is safety, says Fry. Commercial cooking appliances produce more heat and higher flames than their lower-power counterparts. The best solution is to choose a kitchen ventilation hood like the Prizer Hoods line that can keep up.
"I was really impressed by how easily the Prizer Hood was able to contain food smells and was pleasantly surprised by how low the sound factor was. Plus, their unique designs allowed me to finish the look of my kitchen in a customizable way," says Fry.
"We are thrilled to welcome Chef Fry to our All Star Chef line-up," says Eliza Sheffield, vice president of marketing, BlueStar. "It's rewarding for us to know that some of the country's greatest chefs rely on BlueStar and Prizer Hoods products to recreate that restaurant-quality cooking experience in their own homes."
After graduating from The New England Culinary Institute, Fry held prestigious sous and executive chef positions as exclusive restaurants such as The Ritz Carlton in Aspen, Colo., Houston, Texas and Naples, Fla.; The Snowmass Lodge in Snowmass, Colo.; and the Ojai Valley Inn and Spa in Ojai Valley, Calif. Fry developed a cooking philosophy focused on seasonal products, allowing fresh ingredients to take center stage. Honing his skills from the best of the best, Fry opened JCT. Kitchen & Bar as his first restaurant and hasn't stopped yet. Keep a look out for Chef Fry's four new ventures on the horizon, including a new restaurant in his native Houston, Texas.