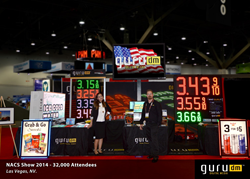 Torrance, CA (PRWEB) November 11, 2014
Guru DM (Guru Digital Media), one of the largest digital sign providers in the United States, had a very successful showing at the National Association of Convenience Stores (NACS) show in Las Vegas recently. Their sign products excited many attendees who realized the huge potential for growth they could create.
The NACS Show provides the most comprehensive representation of products and services for the convenience and fuel retailing industry. The 2014 NACS show was held at the Las Vegas Nevada convention center which provides for more than 390,000 square feet of exhibit space, the NACS Show is one of the country's top 50 trade shows in the United States.
Tom Boren, CEO of Guru Digital Media said, "This show was a huge success for us. We met with hundreds of owners and representatives from the fuel retail industry who were blown away by our products. They didn't realize the power and potential of these signs and what they can do for their business. With the sheer number of products, services and promotions that a retail location needs to inform their customers about - our products are ideally suited to make this happen."
Guru Digital Media was featured as one of the industry's newest exhibitors displaying various digital marketing solutions for both the convenience store market and the fueling industry. Guru DM provided exciting and innovative new products with their illuminated digital on-site window advertising, indoor and outdoor Electronic Message Centers and Electronic Gas Price Changers.
Boren said, "Watch for us at the Western Petroleum Marketers Association (WPMA) show in Las Vegas in February 2015. We'll have more exciting products to showcase then. See you in Las Vegas!"
About Guru Digital Media
Guru Digital Media (http://www.gurudm.com) is one of the leading providers of LED sign products in the United States. We have over 40,000 installed LED sign units across the country. The company was founded in 1959 and has helped over half a million customers in its over 50 year history. Guru DM offers many different types of LED messages signs to help America's businesses get the exposure they need to their passing public and potential customers. Guru Digital Media is proud to be an ESOP (employee stock ownership plan) company which is owned and operated by its employees. Join Guru Digital Media on Facebook at http://www.facebook.com/gurudm.
To learn more about Guru Digital Media please contact Diana Sanchez at 855-722-4878 or e-mail at Dianas(AT)gurudm.com.