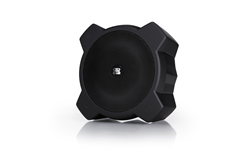 "With G-DROP, we sought to design a speaker that, above all else, wouldn't flinch in the face of water."
(PRWEB) November 11, 2014
G-Project, a company dedicated to evolving accessories for smart devices to be rugged and real-world ready, is expanding its product line with the addition of G-DROP, a powerful, rugged, waterproof Bluetooth speaker designed for any adventure, wet or dry. G-Project is also launching an updated version of its larger portable, water-resistant speaker, G-GO. The new version improves on the original version's audio quality and power output, while still maintaining its rugged design. G-DROP is available now for $50 and the new G-GO for $60, both available at Target, Amazon.com and G-Project's website.
From the pool to the snow, G-DROP is designed for outdoor enthusiasts, who want to take their music from sitting on the sidelines to being in the middle of all the action. With its IPX7 rating, G-DROP can be submerged in water at a depth of one meter for 30 minutes, and still continue to play. It's also able to withstand temperatures from -14°F to 122°F, making it perfect for summer and winter activities. Dunk it in water, float it in a pool, lay it in a pile of snow, sit it in the sand and the music plays on.
"All of our speakers share a common genetic and philosophy behind them...their loud, tough and strong, and each of our speakers are specifically made for different adventures. We think of each G-Project speaker as a tool in an expanding kit, allowing you to take your music in places you never thought you could before." said Matthew Paprocki, founder/creative director of G-Project. "With G-DROP, we sought to design one that, above all else, wouldn't flinch in the face of water."
G-DROP delivers powerful sound for a compact speaker with its substantial 2.5" driver, passive bass radiator and MAXX Audio™ digital sound processing for optimum bass performance. The waterproof, built-to-last speaker streams music via Bluetooth 4.0 and also offers line-in for any for any device with a standard 3.5mm headphone jack. G-DROP is built with a six-hour rechargeable battery and easily charges through micro-USB.
G-DROP's rugged build is constructed with a double-wall housing, soft-to-the-touch elastomer that wraps around the unit and sealed port covers to protect it from water and dust. G-DROP is also built with a metal loop so it can easily hang onto a backpack or roof rack. It's unique form factor also allows it to stand upright or lay on its back to project sound up for a 360 listening experience.
G-Project is also launching an updated version of its popular larger portable, water-resistant, Bluetooth speaker, G-GO. The new G-GO sports an updated design while maintaining it's rugged housing structure, protective rubber base and integrated handle. In addition to a refreshed design, the new G-GO includes updated drivers and an updated sound chamber, adding more balance and improved audio clarity and bass.
G-Project's lineup also includes G-BOOM, the award-winning $100 Bluetooth boombox named 2013's "Speaker of the Year" by iLounge; G-GRIP, a built-to-last, crush proof, portable Bluetooth speaker; two fun-sized travel speakers, G-POP and G-ZIP; and G-BUZZ, a rugged, portable alarm clock.
For product one-sheets and hi-res images, please visit http://gprojectgear.com/pages/press
Check out G-DROP in the water: http://youtu.be/IFblBwmDwao
About G-PROJECT (http://www.gprojectgear.com):
G-Project is dedicated to creating speakers and accessories for smart devices that are rugged and real world ready. Always built with durability and portability in mind, G-Project creates lifestyle products for on-the-go, adventurous consumers. In 2013, G-Project's Bluetooth boombox G-BOOM was honored by iLounge and named "Speaker of the Year." G-Project utilizes the backgrounds of the Goodhatch team in design, technology, and music to create award-winning speakers that serve as the backbone of G-Project's emerging California lifestyle brand.