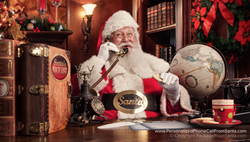 Shelby Township, MI (PRWEB) November 15, 2014
PackageFromSanta.com has launched a new personalized phone call from Santa app available for free download via the iTunes App Store and the Android App Store, just in time for the upcoming holiday season.
This must-have app for the holiday features North Pole-inspired groundbreaking technology guaranteed to amaze children. The app allows users to select from numerous unique messages and choose the date and time of the personalized call. Users can customize the call to mention the child's name, age, state, country, and more. When receiving the call from Santa, the child's name and photo will appear on the phone's incoming call screen, and looks like a genuine incoming call.
Imagine the look on a child's face when they receive a phone call from Santa Claus himself! The real voice of Santa Claus and his personalized special message is guaranteed to delight children of all ages. Whether a child has been naughty or nice... Santa can offer great words of encouragement. This free app is the easiest way to make Christmas extra special this year.
Complimentary download is available for a limited time. Special messages available: On Santa's List, Calling from the Sleigh on Christmas Eve, After Christmas Call, Birthday Wishes, and more.
 
Fore more information, visit the Personalized Phone Call from Santa app page.
About PackageFromSanta.com
PackageFromSanta.com is a Michigan family owned business in operation for 8 years offering one of a kind, proprietary items including personalized Santa phone calls, Santa videos, letters from Santa, and packages from Santa Claus. All products are made in the USA. Santa videos feature the REAL bearded Santa that doesn't cover his mouth when saying children's names, a unique feature only provided by PackageFromSanta.com. PackageFromSanta.com is the only Santa Letter website registered with the Better Business Bureau (BBB) and has an A rating.