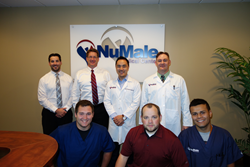 Our veterans deserve nothing less than the best care.
Omaha, NE (PRWEB) November 11, 2014
NuMale Medical Center announced today that it had made a contribution to Wounded Warriors Family Support in honor of our nation's veterans. NuMale's support will help the organization as it works to provide support to the families of those who have been wounded, injured, or killed during combat operations.
A nationwide leader on men's sexual dysfunction, enhancement, and overall health, NuMale is committed to giving back to the communities it serves. In light of a recent study showing dramatically increasing rates of erectile dysfunction (ED) among members of the Armed Services, NuMale believes working with service members, veterans, and their families is more important than ever.
"At NuMale Medical Center, we know how suffering from ED and other conditions can affect men and their loved ones," said Dr. Asandra. "We made this contribution to express our support for veterans and their families. Sexual dysfunction can be caused by serious medical conditions, and our veterans deserve nothing less than the best care."
Under the expert guidance of Chief Medical Officer Christopher Asandra, MD, NuMale's medical team takes a comprehensive approach to treating ED, premature ejaculation, low testosterone, hair loss and much more. NuMale's doctors are 98 percent successful in treating ED, and they offer a 100 percent money-back guarantee on their $99 ED consultation. Veterans and their families can visit http://www.numale.com or call 866-205-8262 to make an appointment.
About NuMale Medical Center
NuMale Medical Center is a leading national provider of customized, comprehensive treatment for male sexual dysfunction and enhancement. NuMale helps men suffering from erectile dysfunction (ED), low testosterone (Low-T), premature ejaculation (PE) and low sex drive, utilizing a wide range of the most highly-respected, FDA-approved treatments and therapies including bio-identical hormone replacement and the Priapus™ shot. Founded and led by accomplished physician Christopher Asandra, MD, NuMale Medical Center has expanded rapidly in its first year, with eight nationwide facilities and many more to come. Learn more at numale.com and follow the company on Facebook, Twitter and LinkedIn.