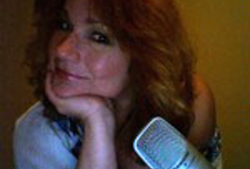 Thanks to VABS technology, Studios.FM now has the ability to create and mass distribute internet radio hosting and station content," said Holly Hall, Studios.FM founder.
Ontario, Canada (PRWEB) November 12, 2014
Studios.FM founder, Holly Hall is pleased to announce the Indiegogo crowd funding campaign to fund the release of their new internet radio Virtual Automated Broadcasting Solution (VABS).
Veteran talk radio show host of A2Zen.FM, Holly Hall has a voice that people like to hear. For six years while doing her weekly talk radio show, she and hosts like her searched for a less frustrating way to do internet radio hosting broadcasts online. Now as the founder of Studios.FM she and a team of broadcast engineers have created a technology that provides a solution to online radio frustration. Virtual Automated Broadcasting Solution or VABS is a browser-based in the cloud that makes it easy for people with a message to broadcast as show or run an entire station online. Using VABS technology potential hosts can broadcast their own program or stream an entire channel.
"Thanks to VABS technology, Studios.FM now has the ability to create and mass distribute radio station content," said Holly Hall, Studios.FM founder. "We have the technology to give the world 'out of the box' tools and templates needed to create an entire station with Live and On Demand audio and visual content. With our customizable website templates, streaming live player, and archives, anyone can afford to easily run their own shows or stations thanks to VABS technology."
VABS technology is needed and in high demand. Within 3-5 years brick and mortar stations will be phased out. The UK already has set a mandate to close analog stations and to have only digital stations by 2017.
To answer this demand, previously hush-hush and protected by Studios.FM, Holly Hall and her team are ready to provide the VABS technology to people who have the talent or ambition to host radio shows or run a station. Holly Hall is excited to share this ground-breaking technology with the world with the help of the Indiegogo crowd funding campaign.
With the VABS internet radio hosting technology in place, Studios.FM is hoping to raise funds to:

Easy-to-customize and use Studios.FM exclusive WordPress Website Theme for station/channel owners
Automated switchboard, archiving and scheduling platform for live shows, rebroadcasting as well as pod casting that include auto cues, intros, outros and commercials.
Personal studios for hosts to record 24/7, including pre scheduled live shows, seminars and meetings.
Telephony multi bridges for all station owners and broadcasters to take callers.
First ever multi-channeled (starting with 10 channels) easy-to-use stations.
For more information please visit http://www.Studios.FM or the Indiegogo Crowd funding site at https://www.indiegogo.com/projects/the-future-of-radio-with-studios-fm.