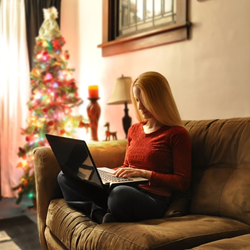 Credit cards often have superior fraud protection and return policies, so save the large, big-ticket items for the plastic.
Chicago, IL (PRWEB) November 11, 2014
With the holidays fast approaching, people who have been working on improving their credit scores - particularly first-time homebuyers who need to be approved for a mortgage - may be worried about their extensive shopping lists. Without preparation, consumers can unwittingly put hundreds or thousands of dollars on their credit cards during the winter months. However, this doesn't have to happen. The Federal Savings Bank has put together a number of tips on how consumers can plan their holiday spending in such a way as to not only avoid hurting their credit scores, but also potentially improve them.
Plan before shopping
Consumers should create a fixed budget before buying presents. It's best they decide how much they can afford to spend on each family member and friend and think of gifts that fit within that dollar amount before heading to the stores. It's important to set an absolute cap on spending and keep that figure in mind throughout the shopping process.
Cash over card
People should try to use cash instead of credit as much as possible. If they've determined a budget, they can draw a certain amount of cash from each paycheck leading up until the holidays. To avoid pulling out the plastic, consumers can plan which presents can be purchased with cash each week. They can also take advantage of layaway plans though these should be carefully reviewed and avoided if they contain numerous fees and high interest rates.
Limit and prioritize credit usage
Because many people can't afford to pay for all of their holiday shopping in cash, they should prioritize which items are best bought with a credit card. Credit cards often have superior fraud protection and return policies, so save the large, big-ticket items for the plastic. Less expensive gifts should be purchased with cash. Consumers should keep in mind that they shouldn't put more on their credit cards than they can pay off within one or two payments - otherwise, they risk racking up high interest charges.
Start planning for next year
It may seem too soon, but January is when everyone should begin thinking about the next holiday season. Consumers can have an estimated budget of what they'll need for shopping and start setting aside money right away. This way, when November hits and shopping is on everyone's mind, there will be plenty of cash saved for spending and the credit cards can take a rest.
For more information on how to improve your personal finances before applying for a mortgage, contact The Federal Savings Bank, a veteran owned bank.