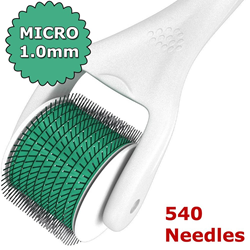 I saw the stretch marks fading away. I'm so happy. My wrinkles are becoming less defined. I believe it has made my face look years younger.
Brooklyn, NY (PRWEB) November 11, 2014
Many people go on years suffering with unsightly skin care conditions that they may feel they have to live with for the rest of their lives. There may be an answer to getting rid of unwanted skin conditions & acne that is easily obtainable for everyone.
For men and women who have long been searching for an effective solution to reduce the appearance of wrinkles, scars, and blemishes and are seeking acne treatment, there is now a breakthrough for an at-home treatment using micro needle therapy. Skin care treatment therapy has been used for years to treat a variety of dermatology conditions, though most of these procedures are costly, some running thousands of dollars, and require multiple treatments from a professional.
Likewise, they can be more damaging to the skin and may not guarantee results. A simple hand-held device known as a derma roller could be the answer to this on-going problem which could also be found at http://amzn.to/1uWh5wp
What Does This Mean for Dermatology Sufferers?
This new treatment process that uses these skin care systems involve the use of a roller consisting of surgical quality Titanium needles that can be used right in the comfort of your home. When used on a regular basis as recommended on the affected area, they can minimize the appearance of embarrassing skin conditions.
How Does Micro needling Work?
The Derma Roller is made with a 540 count Titanium 1.0mm needles on a roller to safely stimulate the production of collagen, which consequently leads to the production of new skin cells in place of the dead skin cells and acne that were previously there. These micro needles create tiny superficial punctures in the skin to fuel collagen production in order for this natural process to take place.
These at home systems allow the user to perform the procedure themselves and see results faster. Having clearer skin can improve one's overall outlook and self-confidence.
Is It Right For Everyone?
These Derma rollers cause very minimal damage to the skin unlike other treatment methods, making micro needle therapy a superior choice. It is relatively painless in comparison to other treatment options and carries very minimal side effects. This innovative technology in skin care is proving to be more ideal in many situations.
It can be used on areas of the body that would otherwise be untreatable via other skin care treatment measures such as near the eyes. It has been well tolerated in people with sensitive skin, acne, as well as those with darker skin tones or of ethnic background. Actual users are raving about the Derma Roller for its efficacy and ease of use for at home treatment.
What Are All the Uses of the Derma Roller?
Users will be able to treat acne scars, hyper pigmentation, reduce wrinkles and fine lines, stretch marks, cellulite, and even hair loss with this handy tool. The roller can be used on various areas of the body including the scalp, face, neck, arms, legs, and abdomen. It is suitable for people with nearly any skin type and can be used by men and women alike. It is also the more affordable option for anyone wanting to achieve flawless skin without having to return to a clinic for repeated treatment sessions.
Interest in a Derma Roller, click below: