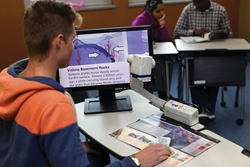 This is a great opportunity for educators, [disability] service providers and families all over the state of Pennsylvania to get out there and try some very cool new products for themselves and those that they're stewards for.
Pittsburgh, PA (PRWEB) November 11, 2014
Teachers, administrators, service providers and families of students with vision impairments will gather at one or more Pennsylvania cities this week for the much anticipated 2014 Annual PaTTAN Assistive Technology Expo. This unique event changes venues for each of three days of educational sessions and assistive technology exhibits, giving educators, school administrators and assistive technology specialists across the large state of Pennsylvania the opportunity to participate, experience and interact with life-changing assistive technology products that could have an immeasurable impact on the lives of blind and low vision students as well as teachers, parents and caregivers.
HIMS Inc. Education Market Development Manager, Dave Wilkinson, who is blind himself shared, "This is a great opportunity for educators, service providers and families all over the state of Pennsylvania to get out there and try some very cool new products for themselves and those that they're stewards for." He continued, "Several of our most popular products right now feature OCR [optical character recognition] and text-to-speech that can read printed text aloud, brining much needed on-the-go access to things like textbooks, restaurant menus and more to those with low vision or blindness – who simply have never had such convenient and independent means of access before now."
Austin, Texas-Based HIMS Inc. will be in attendance during all three days of the conference, demonstrating assistive technology products including their recently released E-bot ADV and E-bot PRO, the first and only iPad-compatible portable reading, writing and distance magnifiers for low vision students, and Blaze EZ, the only digital book player with OCR for blind students.
The complete list of HIMS AT products that will be demonstrated include:
CANDY 5 HD Handheld Video Magnifier – A handheld magnification device that magnifies from 1x – 22x and can change the text and background colors of reading materials to make text clearer to people with different eye conditions (think electronic magnifying glass).
E-bot ADV & PRO iPad Compatible Portable Video Magnifiers with OCR – All-in-one reading, writing and distance magnification products for those with low vision that can magnify images or reading material directly under the camera or across the room. It also has OCR with text-to-speech built-in so it can read things aloud such as textbooks, a class agenda, a quiz, documents for extracurricular activities, and other educational materials. E-bot can connect and display magnified images onto an iPad, Android Tablet, Mac or Windows laptops, or any computer or television monitor via an HDMI connection.
Blaze EZ Multi-Player with OCR Text-to-speech – A digital talking book player with support for music, internet radio, Wi-Fi and printed materials via built-in camera and OCR text-to-speech.
(Some people say it's sort of like an iPod for the Blind but with special controls for navigating and bookmarking specially formatted digital books plus OCR text-to-speech access to printed materials.)
Braille Sense U2 Braille Notetakers – A tablet-like computer for the blind with refreshable Braille cells and tactile keyboard instead of a touch screen. The latest update for this device includes more blind-friendly access to popular programs such as Microsoft® Excel™ and PowerPoint™, Dropbox™, YouTube™, Twitter™, Facebook™ and more mainstream applications that have largely been inaccessible or cumbersome for blind computer users until very recently.
Braille EDGE 40 Braille Display – A keyboard/monitor alternative for the blind that has refreshable Braille cells and an 8-button (Perkins-style) keyboard that corresponds to the 8-cells needed to create Braille text. This versatile tool can be used to navigate an iPad, iPhone, Android Tablets and Phones, PC's and MacBooks. Students appreciate having the privacy, familiarity and accuracy of Braille input and output provided when using Braille EDGE with these popular devices.
The three stops on this three-day conference tour include:
Four Points Sheraton Pittsburgh North - Pittsburgh, PA | November 11, 2014 | 9 AM – 4 PM
PaTTAN Headquarters - Harrisburg, PA | November 12, 2014 | 9 AM – 4 PM
DoubleTree by Hilton – King of Prussia, PA | November 13, 2014 | 9 AM – 4 PM
For more information about the PaTTAN Assistive Technology conference, visit http://www.hims-inc.com/events. To learn more about HIMS assistive technology products, visit http://www.hims-inc.com/products or call 888-520-4467 to speak to an assistive technology specialist right away.
Since its founding 15 years ago, HIMS has been devoted to improving opportunities for the visually impaired through the development of technology products for the blind and low vision. HIMS Inc., an Austin, Texas-based company that specializes in assistive technology products is a wholly owned subsidiary of HIMS International Corporation.