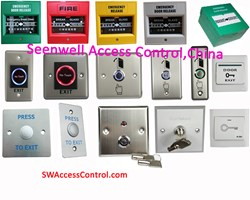 (PRWEB) November 18, 2014
Recently, SWAccessControl.com, one of the world's leading access control system manufacturers, has announced its new push button switches for access control system. Moreover, custom designs are available at their online store.
These new products are designed to operate in various environments. They are suitable for doors where access control is essential, and they can help simplify key control. Each one is good to touch, and easy to operate and use.
SWAccessControl.com is the industry leader for creative, premium quality and competitively priced access control systems. The company supports its products with the best customer service, technical support, fast delivery and others. The company is ISO 9001:2008 registered, and maintains a 15000 ft. manufacturing facility.
Ms. Amy, CEO of SWAccessControl.com, states, "The new push button switches are released to expand our product line, so that customers can find a place to buy all the access control related products at affordable prices. If any customer cannot find his desired product on our website, he can contact us with special requirements. OEM orders are welcome here at SWAccessControl."
She continues, "Customer satisfaction and service are our top priorities and commitment. We are doing our best to provide reliable products for the people around the world. We will stay focused on product quality, reliability, discounted shipping costs and 24/7 customer service."
About SWAccessControl.com
SWAccessControl.com is a leading access control system manufacturer and supplier from Shenzhen, China. The company aims to provide the best quality products at reasonable prices for its clients around the world. Its products include fingerprint access control systems, RFID access control systems, proximity card readers, magnetic locks, electric bolts, access control power supplies and more. For more details of the company and its products, please visit: http://www.swaccesscontrol.com