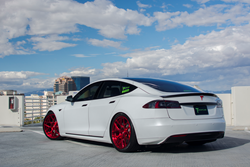 "Everyone from A-list celebrities, executives, and soccer moms are looking to give their Tesla Model S that extra flair, and we've got it," said Elie Rothstein, Founder & President at T Sportline.
West Hollywood, California (PRWEB) November 11, 2014
Eco Chic Car Fashion Meets LA Auto Show
Let's face it, electric cars have always gotten a bad rap with their futuristic eye sore designs, often making consumers sacrifice vanity in exchange for dumping the pump. We give credit to Tesla for being such a pioneer in creating the ultimate electric car that delivers luxury, beauty, safety, and cutting edge technology wrapped up into one.
T Sportline, "The World's First Tesla Tuner" focuses on creating attractive, sporty and luxurious accessories exclusively for Tesla vehicles. Just like fashion, some accessories are available for purchase right off the rack, while other accessories are strictly commissioned for VIP clientele.
The Tesla Model S showcase by T Sportline will feature the "most expensive Tesla Model S" with a total value of over $200,000, after the addition of custom aftermarket modification and accessories. T Sportline's showcase is located in the Kentia Hall of Los Angeles Convention Center at the LA Auto Show from November 18-30, 2014.
About
T Sportline is proud to be the world's first electric green car accessory tuner specifically focusing on the Tesla Motors brand. A group of automotive enthusiasts with over 20 years of combined automotive accessory experience, with a passion for electric cars and the Tesla brand.