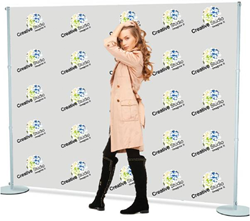 Our strongest ability is our expertise in printing with dye sublimation inks
Hudson, MA (PRWEB) November 12, 2014
According to a new study released by Info Trends (2014), In 2013 digital printing on textiles has accounted for 600 million square meters of printed fabrics worldwide and is estimated to grow at 39% compound annual growth rate (CAGR), by 2018, which is approximately 30 billion square meters. The research addresses the migration from conventional printing to digital printing and declares a movement from mass production to mass customization in the printing world.
For grand format digital printers, this growth solidifies the confidence in continuing to invest in digital printing on textiles and offering print buyers more opportunity to grow.
"We have been printing digitally on textiles for over 10 years, says Margaret Vosburgh, marketing and communications associate for Grand Image, Inc. "Our strongest ability is our expertise in printing with dye sublimation inks and using a heat transfer process for soft signage products. Therefore, the projected growth of this type of printing allows us look into more avenues of digital printing on textiles so that we can bring even more solutions to our clients."
In a 2012 Info Trends Market Research Report; 60.3% of U.S. Digital Textile Printers are printing, "Large scale display graphics on textile-based substrates" also known as, soft signage. "An investment in the digital printing of textiles is a large one, not only in dollars but in the time to master the equipment and the product." says Tamir Luria, Director of Business Development. "We continue to look into the newest materials and equipment in digital printing on textiles and we encourage our clients to come to us with new ideas and information as well."
The grand format printing company is also known for its extensive list of products and services that include any vinyl and mesh printing up to 16 feet, dye sublimation fabric printing up to 10 feet, and direct to substrate flatbed capabilities. Grand Image, Inc. works with print resellers to expand opportunities. The company is based in Hudson, Massachusetts.