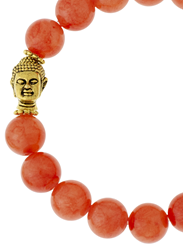 Sayville, NY (PRWEB) November 12, 2014
Emerging jewelry designer Vivian Demeusy-Gerzog of Sayville, NY will be presenting her Buddha Bia jewelry line at a Sophie Reese trunk show on November 15, 2014. This honorary appearance, open to designers by invitation only, follows over six months of successful sales at Sophie Reese and a rare invitation to display her merchandise at a Henri Bendel trunk show last March.
Sophie Reese is a women's jewelry boutique that seeks out unique, meaningful, and personalized lines to feature in its storefront in the Walt Whitman Shops at Huntington Station. They were drawn to Demeusy-Gerzog's Buddha Bia collection of Yoga and Buddha-inspired necklaces, bracelets, and earrings because of their quality and individuality - each piece being hand-crafted from natural stones and often inspired by the artist's personal experiences or relationships.
Since the line's adoption, Buddha Bia has enjoyed a great deal of success, not only at Sophie Reese, but also at Paris Market Boutique in Sayville, NY and Society Men and Femme in Westwood, NJ. In October 2012, Hendri Bendel hand-picked the line out of thousands of hopeful candidates to be featured at their April 2013 trunk show at the New York City flagship store. Sophie Reese has followed up with an invitation to their trunk show on November 15, 2014, where Demeusy-Gerzog will be featuring new collections and promotions from 12 pm to 6 pm.
Demeusy-Gerzog will be there in person to display her merchandise, for which she has high hopes. In addition to Sophie Reese, Paris Market Boutique, and Society Men and Femme, the artist aims to expand her line into other venues. "My goal is to be in hundreds of select fashion-minded jewelry and retail stores nationwide." said the proud jeweler.
About Buddha Bia:
Buddha Bia was founded by Vivian Demeusy-Gerzog in September 2012 as an upscale jewelry line catering to women's everyday fashion. Each necklace, bracelet, and earring in the Buddha Bia line is hand-crafted from natural stones, often inspired by the memory of a special person or place. Her jewelry can be found at http://www.buddhabia.com and at Sophie Reese in the Walt Whitman Shops in Huntington Station, NY.