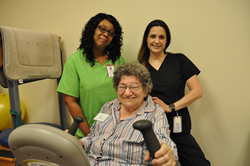 I live alone and take care of myself, but do need the help of PACE to get a little more done.
Clearwater, Florida (PRWEB) November 11, 2014
Suncoast Hospice has been a staple in Pinellas County for more than 37 years; known for helping families by providing much needed care and support through their loved ones' final moments. Suncoast PACE, a program of Suncoast Hospice, helps senior citizens have quality and healthy lives while remaining independent. Ruth Hartley, a participant of PACE (The Program of All-Inclusive Care for the Elderly) is a local 80-year-old NAVY Veteran who made it her life's mission to care for others, is now receiving care through PACE so she can maintain living at home independently.
Hartley joined the NAVY in February of 1953; an extraordinary thing for a woman to do at that time. She worked as an Aerographer's Mate, which is the study of weather patterns and atmosphere and served with the WAVES (Women Accepted for Volunteer Emergency Service) during the Korean War era. Soon thereafter, she met her husband Jack, married in May of 1954 and they started a family which grew to seven children.
Hartley's husband passed away in 1975 and she had to continue raising her children while remaining strong. Her work eventually moved her to California and her career spanned to opening three homes for children who experienced abuse, working a county juvenile job and even working with gang members until she was 66 years old.
Then Hartley's son died from cancer, and she decided to move back to Florida. Still pursuing her desire to help others, she took a position for six years with Neighborly Care Network (which is now known as Suncoast PACE), then the Homeless Emergency Project, the Women's Living and Learning Program, a mental health association in Clearwater and as a counselor for the Salvation Army.
Hartley's journey with Suncoast PACE began three years ago to receive care for a broken shoulder and for her multiple serious health conditions. "I go to PACE Monday, Wednesday and Friday, and they offer assistance with grooming and dressing. I'm not able to reach my hands behind my back or over my head to get ready anymore. Without the therapy, I wouldn't be able to do my own cooking. They work with me on my balance and speech and teach me exercises I can do at home," says Hartley. "I live alone and take care of myself, but do need the help of PACE to get a little more done."
PACE helps keep our seniors going and Hartley draws further inspiration from "support and love of my family, my belief in God," she says. "I believe in a supreme being, and a loving and forgiving God. I have a happy nature. I'm patriotic. I'm American."
With more than 1.5 million veterans in Florida, our state has the third-highest population of veterans in the U.S. and the second-highest population of veterans over the age of 55. Pinellas County is home to more than 85,000 veterans and Hillsborough with 94,000 veterans. Sadly, 1,500 veterans die each day; 96% die in the community.
Suncoast PACE currently has about 10 participants that are veterans in their program. That's why it is no surprise that Suncoast PACE does everything they can to take care of our veterans in a meaningful and honorable way.
"We value our veterans and the service they've provided to our country. We honor their presence in our Suncoast PACE program and enjoy hearing stories of their service," says Stephanie Sessions, RN, Executive Director of Suncoast PACE. "I was fortunate to be part of the Honor Flight (http://www.honorflightwcf.org/) welcome home for Ruth and it was a touching experience. We're so happy to help seniors with our program. By providing medical care and an adult day center, we help keep seniors healthy and living in their own homes."
About Suncoast Hospice: Established in 1977, Suncoast Hospice is a not-for-profit, community-based organization. Suncoast Hospice and its family of programs provide expertise, care and support for thousands of area residents with hospice care, inpatient care centers, palliative home health, HIV/AIDS services, children's programs, caregiver training and support, advance care planning, Program of All-Inclusive Care for the Elderly (Suncoast PACE) and more. To learn more visit http://www.SuncoastHospice.org.
About Suncoast PACE: Suncoast PACE serves participants at its day center and medical clinic in mid-Pinellas County and at home. The program provides comprehensive health care and support services for Pinellas County seniors with chronic health conditions.