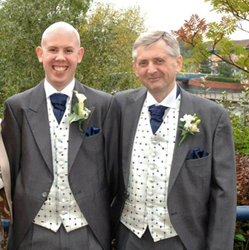 "We thoroughly support Dave's fantastic challenge in raising funds for Mary Stevens Hospice."- David Bond, Director, Footman James
Birmingham, West Midlands (PRWEB UK) 12 November 2014
An employee from one of the UK's leading classic car insurance brokers has taken up a challenge to get into the spirit of Movember with a hair related twist!
Instead of growing a moustache, Footman James employee David Hingley has agreed – with some persuasion from his colleagues! – to grow his hair for the first time in 10 years.
Having lost his father to cancer last month, Dave decided to take up the challenge to raise much needed funds for Dudley-based Mary Stevens Hospice which provides palliative care to the community and supports adults who have a non-curative illness such as cancer, multiple sclerosis, motor neurone disease, Parkinson's disease, cardiac disease and HIV and AIDS.
Performance and Planning Leader Dave explained : "This year I lost my father to cancer and it is in his memory that I want to thank those who took such great care of him during his last few weeks. Every single person at the hospice provided support, not only to my Dad but to the rest of the family as well."
Dave is hoping to raise £1000 and is well on his way to achieving this.
David Bond, Director at Footman James said: "We thoroughly support Dave's fantastic challenge in raising funds for Mary Stevens Hospice. It has been a sad and reflective time for him since his father passed away but is testimony to his father's memory and Dave's attitude to ensure something positive comes from it. I would like to encourage people to give generously for such a good cause."
Lucy Baylis, Community Fundraiser at Mary Stevens Hospice said: "On behalf of the hospice, I would like to thank Dave for his fantastic fundraising efforts and his kind words about the work we do. I'm so glad we have been a help to Dave and his family during their difficult time and pleased to say that the money he raises will help many more patients and their families."
Dave concluded: "Having been bald for 10 years, this is definitely a shock to the system for me to have hair once again. It has always been a standing joke in my family that I should grow my hair back and I had always refused; however, as this is for charity I thought it would be a great way to raise money. I know that my Dad would be very proud of what I am doing and that makes it all the more worthwhile."
The annual Movember campaign aims to encourage men to grow moustaches and the community to support them by creating an innovative, fun and engaging campaign that results in funding for the Movember Foundation's men's health programmes, as well as awareness and understanding of the health risks men face and men taking action to remain well.
For further information about Footman James please contact 0843 357 1200 or visit http://www.footmanjames.co.uk.
To read Dave's story and donate please visit http://www.justgiving.com/Dave-Hingley/?utm_source=Sharethis&utm_medium=fundraisingpage&utm_content=Dave-Hingley&utm_campaign=pfp-email