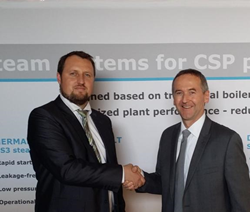 Svante Bundgaard, CEO of Aalborg CSP and Jarl Pedersen, Vice President of Marketing and Sales at NEST. of NEST. Image: Aalborg CSP
(PRWEB) November 13, 2014
The direct-steam storage concept (patent pending) is based on NEST's patented thermal energy storage technology, Heatcrete®, in combination with Aalborg CSP's steam generator design. The latter's natural circulation system has proven a superior performance in some of the world's leading CSP plants.
The direct-steam storage concept is a novel configuration of thermal energy storage and steam generation. It ensures on-demand power production during peak hours, when there is limited or no energy generation from the sun or other fluctuating renewable energy sources.
The direct-steam storage technology is easy to install in CSP plants and has a power generation capacity of up to 24 hours. It enables the delivery of electricity at peak times while increasing overall plant revenue in a substantial way.
The direct-steam storage concept is cost-effective compared to conventional molten-salt-based energy storage systems. The safe and durable solid-state storage medium, combined with the natural circulating steam generator with no need for any electrical heat tracing, guarantees low parasitic load. It also reduces operation and maintenance costs while increasing plant availability.
The operational and investment cost benefits, in addition to the flexible scalability of the system, makes it well suited for off-grid, co-generation and micro-grid applications as well. In these cases, plant availability and energy supply security are of outmost importance. Moreover, the modular storage elements are made from readily available raw materials that can typically be sourced locally.
The energy storage technology can be easily customized to fit project specific requirements, including power generation, seawater desalination, process steam and district heating/cooling. "The cooperation between Aalborg CSP and NEST expands the horizon for the CSP market as increased performance will lower the levelized cost of energy (LCOE) of CSP power plants, resulting in global technology competitiveness" - said Svante Bundgaard, CEO of Aalborg CSP.
"The direct-steam technology will allow our companies to deliver much needed energy storage solutions for CSP projects and also to industrial plants with process steam requirements. The cooperation is expanding the existing market for our energy storage solutions designed for parabolic trough plants using thermal oil" – said Jarl Pedersen, Vice President Marketing & Sales at NEST.
Meet us at CSP Today Sevilla 2014
On 12-13 November 2014, Aalborg CSP and NEST will be attending the 8th International Concentrated Solar Thermal Power Summit in Seville, Spain. All visitors are invited to stop by our booth (nr.10 & nr. 11) to meet senior representatives from Aalborg CSP and NEST.
Press contact:
Jelica Matoricz
International Marketing Manager
Aalborg CSP A/S
Phone: +45 88 16 88 47
E-mail: jem(at)aalborgcsp(dot)com
Jon E. Bergan
Market and Strategic Analysis
NEST AS
Phone: +47 47 36 97 83
E-mail: jeb(at)energy-nest(dot)com
About Aalborg CSP A/S
Aalborg CSP A/S is a world leader in CSP boiler systems and technologies. Our globally recognised solutions are based on 25 years of experience with traditional steam boilers uniquely adapted to the CSP industry. We design and deliver steam generation systems, molten salt and steam tower receivers, industrial solar boilers and integrated CSP energy systems that combine heat and electricity production as well as water desalination. Aalborg CSP has supplied to CSP Plants contributing to more than 330MWe worldwide.
Our engineering design is centred on a value-adding concept aiming to provide high bankability potential as a benefit of excellent and reliable performance. Our world-class project management expertise ensures delivery reliable on quality, budget and deadline commitments.
Headquartered in Aalborg (Denmark) and with sales & service offices in Spain, US, Kenya, Uganda and Indonesia, Aalborg CSP has realised cost effective thermal energy solutions to a variety of industries worldwide.
For more information visit http://www.AalborgCSP.com or follow us on Linkedin.
About NEST
NEST is an innovation-driven knowledge company. The company enjoys a strong IP and proprietary position in the field of thermal energy storage (TES) systems. NEST has expertise in the field of materials, energy systems, structural mechanics and engineering, advanced simulation analysis, and is continuously carrying out R&D to provide leading edge energy storage technologies to the market. In collaboration with partner companies NEST will provide complete EPC and turn-key thermal energy storage solutions to clients around the world.
For more information visit http://www.energy-NEST.com
See more at: http://social.csptoday.com/technology/aalborg-csp-and-nest-develop-new-cost-effective-thermal-energy-storage-system#sthash.Pv2odRD1.dpuf