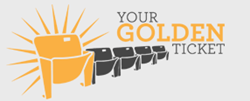 Your Golden Ticket has been a great experience for me and my brother and sister. We hope to grow and become an even larger organization that allows thousands of kids to do fun, cool things.
Losa Angeles, CA (PRWEB) November 12, 2014
Your Golden Ticket, a kid-created, 501(c)3 nonprofit organization is thrilled to announce that not only has it been accepted as a Kind Causes $10,000 contestant for the month of November (voting continues from now through November 30, 2014), it is also searching for new Junior Ambassador applicants. Created by siblings Ryan (10), Jack (10), and Marley Woods (7), Your Golden Ticket gives disadvantaged youth an opportunity to experience the exciting thrills of culturally relevant events that make life fun by giving them free tickets to live venues such as ballgames, concerts, and amusement parks. In order to expand its philanthropic reach, the trio decided to accept Junior Ambassador Board Applications from now until December 15, 2014. Ten applicants will serve their one-year commitment representing Your Golden Ticket and its mission to allow all children to have access to exciting, fun, and interesting experiences.
"Your Golden Ticket has been a great experience for me and my brother and sister," said ten-year-old co-founder Ryan Woods. "We hope to grow and become an even larger organization that allows thousands of kids to do fun, cool things."
Your Golden Ticket has formed partnerships with a variety of organizations across the nation that work with low income or at-risk youth in order to get the tickets into the hands of kids. They provide tickets in multiples of two – one for the child and one for a parent/guardian.
Although most tickets are donated by businesses or individuals, the Kind Causes $10K contest sponsored by Kind that awards money to individuals or organizations who work to make the world a kinder place, would help them with additional expenses to round out the true experience.
Jack, Ryan and Marley believe that "extras" are an important part of providing an all inclusive live-event experience. Therefore, all funds raised go towards providing food, transportation and souvenirs to participants. "We didn't want parents to feel they had to spend their own money or money that they didn't have in order to take part. Our goal is to provide a stress free, exciting, once in a lifetime experience," said Jack Woods.
Your Golden Ticket has affiliate programming with Echoage and We Buy LuLu, allowing for an alternate way to donate to Your Golden Ticket. We Buy LuLu, for example, will donate a share of its proceeds when Your Golden Ticket is entered into the "referred by" line. Echoage allows a child celebrating a birthday to give to charity while still receiving gifts.
Applicants to the Junior Ambassador Program must currently be in 4th grade or above and be willing to commit to Your Golden Ticket for a full year. Responsibilities will include spreading the word, sponsoring at least two fundraising events such as bake sales or lemonade stands, and reaching out to local businesses, venues, or local teams who would be willing to join the movement. All siblings in the selected "ambassadors'" family will be invited to participate and be recognized as ambassadors as well. Ambassadors will be chosen by the first week of January 2015.
For more information regarding Your Golden Ticket or to apply to the Junior Ambassador program please visit http://www.yourgoldenticket.org.
"The three of us have been very lucky to have attended many exciting events and we hope to provide others with their 'golden ticket,' so they can have a brighter day," added Marley Woods.
About Your Golden Ticket:
Founded in early 2014 by three siblings, Ryan, Jack, and Marley Woods (at the young ages of nine, nine and seven), Your Golden Ticket is their way of spreading kindness throughout the world by giving children a chance to build fun, life long memories. For additional information, please contact Lisa Woods at 310-475-8202, email info(at)yourgoldenticket(dot)org or visit http://www.yourgoldenticket.org.