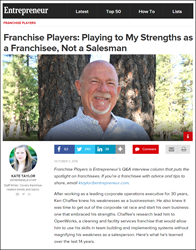 OpenWorks is the perfect fit for me as an operations mind who knows how to manage people and ensure follow through on the value proposition a company promises customers. - OpenWorks Franchisee Ken Chaffee
Phoenix, AZ (PRWEB) November 14, 2014
OpenWorks, one of America's leading commercial cleaning franchises, was featured in the Oct. 3 online edition of Entrepreneur Magazine's feature, Franchise Players. Franchise Players is a regular column that spotlights franchisees from an array of businesses. Entrepreneur Magazine and its website are dedicated to sharing news and feature stories about entrepreneurism, small business management and profitable business opportunities.
The piece, titled Franchise Players: Playing to My Strengths as a Franchisee, Not a Salesman, featured OpenWorks franchise owner Ken Chaffee, who's been involved in the franchise business for 14 years. Chaffee was selected because of his successful history in franchising and his insight into the franchise business model and the commercial cleaning industry.
Chaffee spent 30 years working in a corporate sales environment, but after 30 years, he knew that sales wasn't his forte. Luckily, spending so much time in a business environment helped grow other skills that Chaffee could put toward a new venture -- franchising. In the article, Chaffee discusses what made an environmentally friendly franchise like OpenWorks a good choice for him; the highs and lows of getting his home-based business up and running; and plans for growing his no store front business and maintaining a solid financial future.
Chaffee says OpenWorks was a good fit for him, as they offered a proven business model that was priced competitively and allowed him to play to his strengths. "OpenWorks is the perfect fit for me as an operations mind who knows how to manage people and ensure follow through on the value proposition a company promises customers," he said in the article.
For more information on Franchise Players and Ken Chaffee, please visit http://www.entrepreneur.com/article/238021.
###
About OpenWorks:
Established in Phoenix, AZ in 1983, OpenWorks is a leading national commercial cleaning franchise that offers integrated facility services through highly reputable local affiliates. In 30+ years, the company has grown to 330 franchise locations in five states from Illinois to California.
OpenWorks is guided by a simple philosophy: a cleaner, safer and healthier environment means a more productive workplace. The OpenWorks franchisees and preferred partners who serve more than 1100 facilities each day offer more than simple cleaning and maintenance - they help their clients fundamentally improve their work environment. Each OpenWorks representative implements an environmentally friendly "Green Clean" program using the highest quality equipment.
The OpenWorks difference is all about open, flexible relationships. Each OpenWorks customer receives customized solutions that fit the needs of their specific facility.
For more information on OpenWorks, please visit http://www.openworksweb.com.