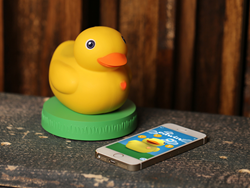 New York, NY (PRWEB) November 11, 2014
pi lab, a company comprised of inventors specializing in intelligent product and application creation, is excited to announce it will showcase the world's first interactive rubber duck, Edwin the Duck, at the Metropolitan Pavilion during CES Unveiled New York today.
Edwin is no ordinary duck; he's an app-enhanced smart toy designed to strengthen the connection between family members through common goals, daily routines and interactive learning, and to help parents overcome challenging childhood situations. He's a companion with a heart.
With technologies that allow him to grow with each child, Edwin comes to life through unique stories and songs designed to create memorable experiences through learning, while also providing convenient features such as a bath temperature sensor, nightlight, waterproof BLUETOOTH™ wireless enabled speaker, and more.
Users can simply download the Edwin the Duck application for their iOS or Android device to access all of his capabilities.
Edwin's silicone casing makes him an anytime toy. From the bathtub to the playground, he is perfect for wherever his next adventure takes him. Using a Bluetooth wireless connection, Edwin easily syncs with the user's smart device to access all of his capabilities. His story begins with three pillars: Bath Time, Story Time, and Sleepy Time.
Using his built-in temperature sensor, parents can use Edwin to turn red and give out a loud "QUACK" if the water is too hot when he's placed in the bathtub. When the temperature is just right, he'll turn back to his normal yellow. As a floating, waterproof Bluetooth-enabled speaker, Edwin can play music from the user's smart device, including original songs made specifically for bath time that come with the application.
When it's time for bed, parents and children can snuggle up with Edwin and read original animated adventure stories that bring important childhood lessons to life. Edwin will engage with families as they read through each story, quacking and lighting up along the way.
When the lights go out, he can be placed on his nest (charging dock) and used as an LED nightlight. Parents can also play soothing sounds such as white noise, a heartbeat, or one of the many custom recorded lullabies to relax their child as they drift off to sleep.
Edwin the Duck is designed to grow with each child and additional pillars will be integrated into his software as more stories, adventures, and activities are developed.
Edwin the Duck is currently being funded on Kickstarter. His campaign will run through December 2, 2014. To help pi lab get its ducks in a row, visit http://www.edwintheduck.com/kickstarter
Connect with Edwin on Facebook: http://www.facebook.com/the.edwin.duck and Twitter: http://www.twitter.com/EdwinTheDuck
About pi lab
The inventors at pi lab believe in the power of imagination and the joy and inspiration that comes from the creative process. Comprised of creative, collaborative experts, pi lab has a singular goal: to change the world through the products they make.
Founded in 2014, pi lab specializes in intelligent product and application creation, primarily focusing on the mobile and tablet sectors. The company's flagship product, an app-enhanced smart toy named Edwin the Duck, was designed to strengthen the connection between family members through common goals, daily routines and interactive learning, and to help parents overcome challenging childhood situations