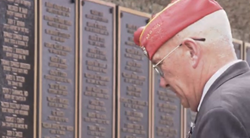 When we reflect on the many sacrifices of our military veterans, we must also consider the many innovations they were responsible for
Los Angeles, CA (PRWEB) November 11, 2014
The world's top aviation reality series, The Aviators, honors Veterans Day this month by exploring advancements in aviation during World War II, while providing an enlightening look back at Pearl Harbor in a historical context. Episode 5.05, which is available now on iTunes, Amazon, PBS and other content providers, turns back the clock to the greatest military conflict of our time, while exploring the remarkable aircraft and aviation innovations that came as a result.
This week's episode, in honor of the many veterans of our military who were responsible for some of aviation's greatest leaps forward, considers how military struggles and setbacks during WWII actually led to landmark achievements in aviation. Also in episode 5.05, The Aviators highlights an airshow routine that accurately recreates the infamous attack that occurred at Pearl Harbor on December 7, 1941.
"When we reflect on the many sacrifices of our military veterans, we must also consider the many innovations they were responsible for," commented Anthony Nalli, producer and creator of The Aviators. "In episode 5.05, as we put these innovations in a historical context, we realize this period represented a massive leap forward for aviation, even by today's standards."
Aviators 'Tip of the Week': Honor a Veteran
WWII was a tragic episode in human history, with battles that devastated on land and sea, and in the air. Since then, countless stories have been told about the sacrifices made and although many of these tales have been honored with reenactments and tributes on screen, we owe our veterans a debt than can never fully be repaid. But what can be given to someone you haven't necessarily met?
Reaching out to show your gratitude speaks volumes. This way, their legacy can be passed down to the generations they fought to save. Get to know the extraordinary men and women who risked their lives to change the lives of others. Honor our veterans by not forgetting who they are, what they've done and what they've allowed our collective nations to be. Because the freedom that surrounds us today is a gift, offered to us by those who have served for the greater good. So make it a point to thank them for it!
For more information on this episode or other episodes of The Aviators, please visit the iTunes store at itunes.theaviators.tv.
About The Aviators
The Aviators is an award-winning weekly TV series featuring interesting people, the latest aircraft, the coolest technology and the best fly-in destinations. It's action, intensity, and adrenalin mixed with education, entertainment, and beauty. The Aviators is for everyone who has ever gazed skyward.
About FourPoints Television
FourPoints Television Productions was founded in 2008 in Toronto, ON by Nalli whose increasing involvement in television development and marketing led him to eventually focus material on his own passions. FourPoints began work on its first major initiative and flagship program, the documentary series "The Aviators," in the spring of 2009. The Aviators now boasts more than 50 million viewers in over 100 countries across the globe.
FourPoints' mission is to tirelessly support the creation of exciting television programs to entertain and educate viewers with unique, compelling content, while serving as an attractive vehicle for sponsors and broadcasters. The company maintains production facilities in Toronto, ON, Los Angeles, CA and Oshkosh, WI.