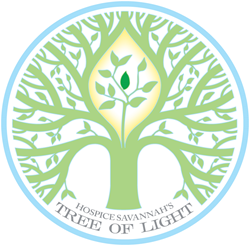 Savannah, GA (PRWEB) November 11, 2014
Hospice Savannah encourages everyone to bring meaning to this year's holiday season by attending the 23rd annual Tree of Light candle-lighting and memorial gathering on the grounds of Hospice House.
Community members are invited to join the bereavement counselors of Full Circle for the annual outdoors event to be held in front of Hospice House, 1352 Eisenhower Drive in Savannah at 5:15 p.m. on Sunday, Dec. 7. During this comforting ceremony, participants light a candle and share memories of their loved ones. Music will be provided by harpist Leslie Adair and by soloist Mel Whitehead. Seating will be available and the event will be moved indoors in the event of rain. Hot chocolate and cookies will be served immediately following the event.
To make a gift to honor the memory of a loved one, visit http://www.HospiceSavannah.org/TreeofLight or call 912.629.1055. Donations help support the many grief and loss services provided at no charge by Full Circle's bereavement staff and volunteers. These include a spouse/life partner loss support group; children's grief group; suicide survivors' support group; infant loss support group; individual counseling for children, teens or adults; counseling for area businesses or schools in times of crisis; and Camp Aloha, an overnight children's grief camp held each May. For more information, please contact the Full Circle staff at 912.303.9442.
About the company:
Hospice Savannah, Inc., a not-for-profit organization, provides the community with the best services and resources for living with a life-limiting illness, dying, death, grief and loss. Hospice Savannah exists to help lift the burden of worry when people receive or a loved one receives a life-limiting diagnosis. Together, more than 250 volunteers and more than 200 full- and part-time staff members are committed to fulfilling the mission of Hospice Savannah. For more information, call 912-355-2289 or visit their website.