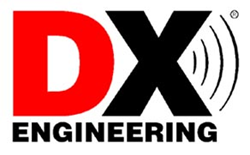 Tallmadge, OH (PRWEB) November 12, 2014
DX Engineering is a Major Sponsor of the January 2015 Navassa Island DXpedition, supplying the team with the new JK Antennas Navassa-5 Yagi Antenna—and it is available exclusively at DX Engineering.
In the spirit of the 2015 Navassa Island DXpedition, JK Antennas introduced a new five-band Yagi that packs a lot of performance into a relatively small size. That makes it an ideal antenna for Amateur Radio operators looking to get active on the most popular HF bands, or Hams that want to upgrade from a tri-band trap antenna.
Based on a collaborative design by Dan Horvat E73M, the Navassa-5 places full-size elements along the same plane to pack 2-element monoband performance into a five-band antenna. Using just a single boom, the Navassa-5 provides impressive gain on the 10, 12, 15, 17 and 20 meter bands—all through a single run of coax cable. The compact antenna carries a 100 mph wind speed rating along with a mere 19.5 foot maximum turning radius.
More importantly, the antenna's wide, flat VSWR curve means operators get excellent wideband performance. For additional band coverage, an optional Navassa-5 "Plus" 6 meter add-on kit is also available.
Navassa-5 Quick Specs
Weight: 52 pounds (approx.)
Wind Area: 9.45 square feet
Gain (65' above ground):
12.6 dBi (10M)
12.4 dBi (12M)
11.8 dBi (15M)
11.8 dBi (17M)
11.4 dBi (20M(
See JK Antennas' Navassa-5 at DXEngineering.com
DX Engineering
http://www.DXEngineering.com
1-800-777-0703