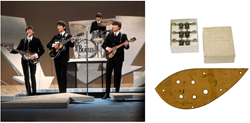 It's a truly amazing piece because that Rickenbacker is considered one of the most important rock and roll guitars of all time
Chorley, Lancashire (PRWEB UK) 11 November 2014
John Lennon's 1958 Rickenbacker 325 is thought to be one of the most significant guitars in the history of popular music and the man himself once called it his favourite possession. It was played on most of the Beatles early recordings, seen by tens of millions on their American television debut and, to this day, remains in the private collection of Yoko Ono. Now fans have the chance to own original parts from the legendary instrument, which are being sold off by Lennon's former guitar technician for up to £40,000.
The guitar's original pick-guard and tuning pegs are being auctioned in London later this month by Ron DeMarino, who has kept them since he removed them while doing some restoration work in New York in 1972. DeMarino, who operated from a music shop in Long Island, acted as an adviser to Lennon on matters relating to the purchase and maintenance of instruments during the 1970s.
"John had asked me to do some restoration work on the guitar and in taking it apart I noticed some of the parts were worn and faded, so I checked with John and said I would put on new tuners and a new pick-guard," DeMarino said. "He agreed and I asked him if he would mind if I kept the old parts and he said 'No, they're yours.' We've had them in the family for more than 40 years now and we have cherished them."
DeMarino said he got to know Lennon well while repairing and restoring his instruments. "We felt at ease," he said of his relationship with the star. "Sometimes we'd go and eat at Home, a vegetarian restaurant on the Upper East Side, and discuss kids and family life. He was quite a regular guy, real down to earth."
The original pick-guard, which has distinctive identifying marks, can clearly be seen on the instrument during footage and photographs from the Beatles' famous appearance on the Ed Sullivan Show in February 1964, the television spot which helped them break America.
Lennon bought the guitar, serial number V81, from a music store in Hamburg in 1960. He used it almost exclusively from the moment he bought it until February 1964 when he was given a new model by the Rickenbacker company. In an interview in 1965, author Ray Coleman asked for a list of Lennon's favourite possessions and he replied, "My first Rickenbacker guitar. It's a bit hammered now. I just keep it for kicks."
"It's a truly amazing piece because that Rickenbacker is considered one of the most important rock and roll guitars of all time," said TracksAuction.com's auctioneer Helen Hall. The original invoicing and documentation relating to the charges for restoration will accompany the sale.
The parts will be sold through auction house TracksAuctions.com, with an estimate of between £20,000 and £40,000. The auction also contains over 100 lots of rare Beatles memorabilia including John Lennon's Gretsch 6120 guitar which was used to record the Beatles song Paperback Writer, a copy of the Sgt. Pepper album signed by John, Paul, George and Ringo and the banjo played by Rod Davis in John's original group, the Quarrymen.
Online bidding begins this Friday 14th November with the live auction at Le Meridien Hotel, London on November 23. Viewing is being held at Le Méridien Hotel from 12.00pm to 5.00pm (GMT) on Saturday 22nd November 2014. A press call will be held at the hotel at 11am on Saturday 22nd November.
Please see http://www.TracksAuction.com to view a promotional video for the Rickenbacker parts which contains an interview with Ron DeMarino.
If you require more information, interviews or images please contact Jason Cornthwaite or Chad Craddock on 0044 (0) 1257 269726 or visit http://www.tracksauction.com