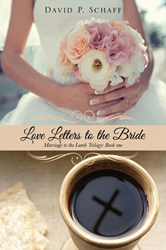 ...These signs indicate that the wedding of the Messiah may be very close.
River Edge, NJ (PRWEB) November 12, 2014
Within David P. Schaff's new book, Love Letters to the Bride, ($17.99, paperback, 9781498411653; $8.99, e-book, 9781498411660) readers will discover many truths about the God-designed institution of marriage, and of the spiritual union—between Christ and the church—that this natural practice foreshadows. However, the revelations do not end there. The author has included the Bridegroom's Love Letter, which is an open invitation from the Holy Spirit for all people to be the honored bride of Christ, illuminating the Word of God. In this personal letter, David presents a compilation of paraphrased and quoted Scripture verses directly from the heart of Jesus. This collection reveals how He, the Bridegroom, truly feels about His bride.
"Jesus said he is coming soon for his bride," states the author. "That is the subject of the second book in this trilogy, Wise Virgins: Preparing for the Bridegroom's Return, which probes the mysteries that currently have been garnering global attention with the best-selling releases this year on the discovery of the blood moon phenomenon by Mark Biltz, and the mystery of the Shemitah with Jonathan Cahn. This first book shows how the bride prepares and makes herself ready, as stated in Revelation 19, since these signs indicate that the wedding of the Messiah may be very close."
When asked about his credentials in authoring Love Letters to the Bride, David P. Schaff shared, "My two greatest earthly desires are to be married to a good and beautiful wife, and have children. These directly parallel my two greatest spiritual desires, which are to be married to the Lamb, and have spiritual children. And the spiritual is greater than the natural, which is now a reality, being fulfilled in my life."
Together with the last book in the trilogy, Abraham's Children: Spiritual Fathers and the Stars of the Sky, these three books, which are all coming out at the same time called the Marriage to the Lamb Trilogy, share insights and experiences of the author's core motivations as well as those of others, and revelation of the Word of God.
Xulon Press, a part of Salem Communications Corporation, is the world's largest Christian publisher, with more than 12,000 titles published to date. Salem Communications is the country's leading Christian communications company with interests in radio, Internet and magazine publishing. Retailers may order Love Letters to the Bride through Ingram Book Company and/or Spring Arbor Book Distributors. The book is available online through xulonpress.com/bookstore, amazon.com, and barnesandnoble.com.
Media Contact: David P. Schaff, dschaff@LDEO.columbia.edu
Website: https://sites.google.com/site/marriagetothelamb