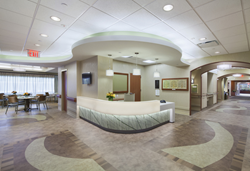 Muncy, PA (PRWEB) December 03, 2014
Construction Specialties Inc. (C/S), a leading manufacturer of high-performing architectural specialty products, has been awarded a Product Innovation Award (PIA) by Architectural Products Magazine and a Nightingale Award by Contract Magazine, The Center for Health Design and The Healthcare Design Conference. These awards recognize Acrovyn® by Design Wall Protection and Acrovyn® Doors by Design for innovative product design, leadership and sustainable practices. These evolutionary products offer unprecedented design freedom to architects and designers by embedding high-resolution images and logos as well as simulated woods, metals and stones into impact-resistant, rigid sheet material.
The PIAs honor innovation in the development and refinement of buildings-related products that run the gamut from cladding systems to interior finishes. Judged by a group of 50 independent industry professionals, the magazine's program represents a mechanism to impartially review products and present to readers the items their peers found innovative and worth investigating.
"Building on the success of last year's program, our fourth edition of the awards proves commercial building manufacturers are committed to, and are working arduously toward, delivering more sustainable products, as well as products that deliver better performance, life and affordability," said Jim Crockett, Editorial Director of Architectural Products Magazine.
Named after Florence Nightingale, a tireless advocate for the improvement of care and conditions in military and civilian hospitals in the 1800s, the Nightingale Award's main judging criteria is for the product's contribution to a healing environment. Others include functionality, quality and durability, aesthetics and style, pricing, and innovation.
"As has been our tradition for more than 60 years, C/S once again challenged the status quo and transformed our legendary Acrovyn Wall Protection to meet the needs of today's customers," said Amy DeVore, Business Development Manager for C/S' Acrovyn Wall Protection division. "Acrovyn by Design offers unlimited visual possibilities and durability, a combination that is unmatched in the industry. These awards recognize our efforts to continually push the boundaries of modern commercial products, transforming expectations for aesthetics, durability and environmental responsibility."
Acrovyn by Design was developed to protect interior wall surfaces and doors in high-traffic areas of commercial buildings, most commonly healthcare, education and corporate environments. The performance, installation and maintenance features are the same as regular Acrovyn, the leading wall protection solution for 45 years. Available in 4'x8' and 4'x10' sheets, Acrovyn by Design can protect and enhance any wall space with high resolution graphics. From subtle visual textures and refined patterns to vivid, space-defining imagery, Acrovyn by Design offers limitless possibilities that can complement C/S Acrovyn's existing wall and door protection suite.
Acrovyn Doors by Design offer the same durability and design capabilities as Acrovyn by Design while utilizing the standard line of durable Acrovyn Doors customers expect. A facility's doors can now be included in the interior design, and featured as part of a full mural with Acrovyn by Design or any other surrounding motif -- instead of interrupting it. With no minimum to buy, door design possibilities are limitless.
For more information about Construction Specialties, visit the company's website.
###
About Construction Specialties
Construction Specialties manufactures and sells specialty architectural products internationally, with over 30 offices and manufacturing facilities worldwide. Its products include interior wall and door protection, entrance flooring, expansion joint covers, louvers, grilles, sun controls, explosion vents, smoke vents and cubicle track/curtains. The company serves architects and designers, building owners, facility managers and contractors. Construction Specialties, Inc. was founded in 1948 and is headquartered in Lebanon, New Jersey.