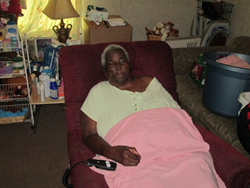 St. Augustine, Florida (PRWEB) November 12, 2014
On Friday, November 14th, Ms. Johns will finally get some help with modifications in her home so she can start using her bathroom and bedroom again. The 77-year old widow has had several strokes and now she must rely on a wheelchair to get around, but as a result can no longer get into her bedroom or bathroom. Unfortunately, she must sleep, bathe and attend to her private needs in the living room. Her daughter is living with her temporarily to help assist her, but Ms. Johns would like to get her independence and privacy back!
Thanks to the relationship between the occupational therapy students at the University of St. Augustine for Health Sciences (USA); their professor, Julie Watson, and St. Johns Housing Partnership (SJHP), Ms. Johns is about to get the assistance she needs. Professor Watson takes a unique approach with her students by creating an opportunity for her class to perform a home assessment with residents who need accessibility retrofits in their homes but do not have resources to make the adaptations. The students, through the knowledge gained from their studies, work with the SJHP to determine the steps needed to create independence and safety for Ms. Johns. This fall, the students organized three fundraising events to support the work they decided was necessary and will work directly with the SJHP construction staff to provide the modifications. The students will widen the bathroom and bedroom entry doors, install wider doors with lever handles, replace the torn flooring and falling ceiling in the bedroom and add repairs to the bathroom so Ms. Johns can use it again, independently.
The partnership between the University of St. Augustine and the St. Johns Housing Partnership began a little over two years ago and has resulted in 11 projects with over $8,000 in fundraising to support the work designated in each home. The purpose of occupational therapy is to encourage rehabilitation through the performance of activities required in daily life. Projects have included building wheelchair ramps, widening doorways, modifying bathrooms, repairing flooring, installing usable shelving and transfer chairs and creating safe pathways for mobility.
The community thrives when partnerships are created to care for its underserved residents. The blending of the USA students' knowledge, their professor's oversight and the skills of the SJHP construction team shows that when organizations work together, success and positive results happen.