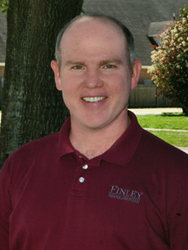 Lafayette, LA (PRWEB) November 11, 2014
Many people worldwide suffer from tooth loss. Living with missing teeth can significantly and negatively affect a person's daily life as well as their self- confidence, which is why Dr. James M. Finley offers patients dental implants in Lafayette, LA. Dental implants have quickly become the preferred method of tooth replacement over traditional treatments like bridges and dentures. Rather than simply resting on the gums, like removable dentures, dental implants are placed directly into the jaw bone, making them a more effective, long term solution for replacing missing teeth.
There are many advantages to dental implants in Lafayette, LA over bridges or dentures, as they are able to provide patients with a more permanent solution to tooth loss. Implants replace the function of tooth roots because they directly fuse with and stimulate the jaw bone, much like natural tooth roots do. This allows for a strong tooth replacement that will not slide around while eating and talking like with removable treatment options. Implants are able to instantly improve self-esteem because they restore a natural looking smile that looks, functions, and feels like real teeth.
Dental implants are the preferred method of tooth replacement for both patients and dental professionals, if a patient is a good candidate for this tooth replacement option. The process for receiving dental implants is simple. First, titanium implants are placed into the jaw bone. This allows for the implant to fuse with natural bone through a process called osseointegration. Once this process is complete, Dr. Finley can attach the restorative portion of the implant, such as a crown, bridge, or denture. Fully integrated dental implants do not move around or slip and are practically indistinguishable from natural teeth. One of the great advantages of dental implants is the fact that their placement in the jaw bone stimulates an increase of bone density, which subsequently helps prevent the bone loss associated with missing teeth. Another advantage of dental implants is that they are long lasting and impervious to decay.
Patients who have one or more missing teeth and are looking for more information about dental implants in Lafayette, LA are encouraged to contact Dr. Finley's office at (337) 504-7263 or visit his website at http://www.finleyperio.com for more information.
About the Practice
Finley Periodontics is a periodontal practice offering personalized dental care for patients in Lafayette, LA. Dr. James M. Finley received his D.M.D from the University Of Mississippi School Of Dentistry and his certificate in Periodontics from Louisiana State University School of Dentistry. He went on to earn his M.S. in oral biology from Louisiana State University while serving as a full time assistant professor. Dr. Finley is part of one percent of dental professionals providing the LANAP® FDA cleared laser procedure for gum disease and periodontal treatment. To learn more about Finley Periodontics and their dental services, visit their website at http://www.finleyperio.com and call (337) 504-7263.