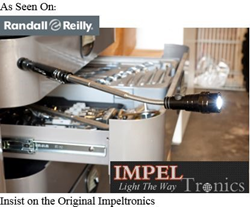 Impeltronics helps Global Chem Source Corp expand its ever increasing safe and effective product choices..
Lewisberry, PA (PRWEB) November 12, 2014
"Success breeds success" is a fairly common phrase these days. The idea of successful activities or products giving birth and multiplying more success does make sense and is at a minimum, one would hope, desirable.
Global Chem Source (GCS), headquartered in the state of Oregon, promotes being recognized by state and local governments for safe and effective products. Being in the Chemical business, for sure, would especially lend itself towards needing safe and effective products. So if Global Chem Source strives to source and promote safe and effective products, and is being recognized by state and local authorities for doing so, and they've chosen the LED Extendable Magnetic Flashlight Tool by Impeltronics as a product offering, and the company understands "success breeds success," does anything else have to be said?
Impeltronics launched this product last year, and has seen nothing but success in customer feedback and repeat business. Impeltronics is proud to have GCS as a viable and conscientious Distributor.
Impeltronics, a wholesale manufacturer of high quality high lumen LED Flashlights, offers everyone a "strategic advantage against the darkness." Whether in search and rescue, hunting and fishing or in need of light and magnetism in any application, Impeltronics invites everyone to "Light the Way."
To learn more about the LED Telescoping Magnetic Flashlight or Global Chem Source Corp, visit these websites: http://www.impeltronics.com/ and http://www.globalchemsourcecorp.com.
Media Contact
Michael Pastal
717-440-1680
mpastal@impeltronics.com