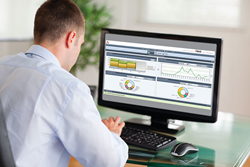 Kansas City, Mo. (PRWEB) November 11, 2014
Gragg Advertising has been honored with a 2014 ImpacT Award from the Kansas City Business Journal for Technology Efficiency. The Gragg development team created a proprietary system, ALPINE TM, which enables both Gragg service teams and clients to receive real-time marketing performance of all campaigns.
"We created this system exclusively with our clients in mind," said Darryl Mattox, President of Gragg Advertising. "With its customizable dashboard reflecting key indicators that are most valuable to each user, ALPINE can integrate metrics directly into a client's database system for real-time results."
ALPINE efficiently combines multi-platform and multi-channel technology for a 360 degree view in real time. ALPINE enables reporting accessibility at the click of a mouse by category, including: vendor, service, media source, delivery time, and geo-target. Gragg service teams can evaluate, revise and immediately impact the results of ongoing campaigns to ensure maximum ROI for clients.
With a strong tradition of providing integrated marketing services, Gragg Advertising continues to impact the success of its clients.
About Gragg Advertising:
Gragg Advertising is a full-service, direct response marketing agency with a focus in online technology located in the River Market of Kansas City, Mo. Recognized by Forbes as one of the world's "Top 100 Agencies that Know Social Media and Google," at Gragg, we fuse technology into a marketing message that is responsive and responsible. Reach Gragg Advertising here: http://www.graggadv.com