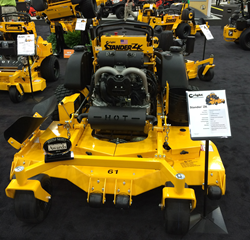 Frederick, Maryland (PRWEB) November 13, 2014
A newly redesigned commercial lawn mower was the highlight of Wright Manufacturing's booth at the recent GIE+EXPO trade show in Louisville, KY. In fact, one of the new Stander ZK™ mowers was even suspended from the ceiling over the show floor so visitors could see the updates made to the mowing deck and undercarriage.
One of the Stander ZKs on the show floor sported an exclusive feature – a prestigious Dealers Choice Award trophy for the best new product in the wheeled equipment category.
Wright President Shawn Wolf explained that the company had started with one of the company's most successful mowers and done a ground up makeover, and introduced it at GIE+EXPO. There, visitors were able to drive the mower, as well as examine it top to bottom and underneath.
Noting that Wright invented the stand-on mower, Wolf said that the re-engineered Stander ZK has a roomier foot platform that is more comfortable and easy to step off of to exit or pick up debris. A five-gallon debris container has even been mounted on the new mower.
The new Stander ZK provides better balance and stability, especially on hills. Reinforced wheelie wheels and elastomer bumpers help the mower hug the ground on all types of terrain. Its short overall length makes this mower more maneuverable than any mid-mount Z.
The large, rugged 52" or 61" AERO-CORE™ deck, push-button deck lift, powerful 25.5 or 27 HP engine, mowing speed of 12.5 MPH, and fully independent left/right hydro systems all contribute to the new Stander ZK's improved productivity. A 72" deck will be available in Spring 2015
The AERO-CORE deck has air-tapered surfaces that eliminate clumping, and its airflow stands grass up for a uniform cut. The deck is equipped with anti-scalp rollers for smooth, even results, even on varying terrain. Recessed caster wheels reduce the turning radius and the compact footprint improves maneuverability and reduces the space required on the trailer.
Fleet managers will also like the redesigned Stander ZK. The only critical in-season maintenance points are engine oil and blades, and there are no grease fittings. The big 17.5 gallon fuel tank eliminates the need to carry extra gas, and the mower's light weight and compact footprint makes trailering multiple units easier.
After accepting the award from the sponsor, Power Equipment Trade magazine, Wolf said, "Our engineers and manufacturing people spared no effort to make an already great mower the best in the industry. It is especially gratifying when the trade recognizes this accomplishment with an award like the Dealers Choice Award."
The name of a local dealer can be obtained by visiting wrightmfg.com or by calling 301.360.9810. Wright Manufacturing is headquartered at 4600X Wedgewood Blvd, Frederick, MD 21703.