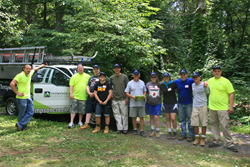 We are a local company and strive to give back to the communities in which we serve. This award is validation that we are succeeding in our effort to help others
Lanham, MD (PRWEB) November 12, 2014
Thompson Creek Window Company, the mid-Atlantic's leading window replacement products company, today announced it has been named "Dealer of the Year" by Window and Door magazine for excellence in community service. The 2014 Window and Door magazine Dealer of the Year awards recognize eight remodeling companies for their accomplishments.
Each year, Window & Door magazine's Dealer of the Year program recognizes window and door retailers and distributors that standout among their peers as innovators in terms of business practices, sales strategies, customer service, installation methods and community service. The Dealer of the Year program has 8 categories that range from leadership and innovative thinking to community service, and showroom design.
This award recognizes Thompson Creek Window Company for their involvement in several large community service projects where they donated materials, manpower and knowledge and support to help improve the lives of others.
Thompson Creek Window Company's president, Rick Wuest, said, "We are thrilled to be honored with a community service award for our contributions in Maryland, Washington, DC and Virginia. We are a local company and strive to give back to the communities in which we serve. This award is validation that we are succeeding in our effort to help others".
The full story can be read at http://www.windowanddoordigital.com
About Thompson Creek Window Company
Founded in 1980, Thompson Creek Window Company began as a manufacturer of energy-efficient, maintenance-free vinyl windows. Since that time, Thompson Creek Window Company has evolved into one of the leading specialty home improvement contracting companies in the nation. The company's product mix includes replacement windows and doors, vinyl siding and a clog-free gutter system. Thompson Creek Window Company is headquartered in Lanham, Maryland, with an 80,000 square-foot manufacturing facility in Landover, Maryland. Thompson Creek employs over 400 people in the Washington D.C. region.