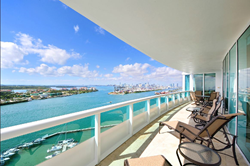 South Beach is not just a playground for the rich and famous. Celebrities who live in luxury Miami Beach condos have access to the best lifestyle to live, play, work & unwind than any other major U.S. City.
Miami Beach, Fl (PRWEB) November 13, 2014
Home to the stars, Miami Beach's top luxury waterfront condos in the South of Fifth neighborhood is a major destination for wealthy Latin-Americans and scores of high-net worth celebrities seeking the ultimate South Beach lifestyle. Celebrities such as baseball star A-Rod, Miami Heat owner Pat Riley, Jennifer Lopez, Michael Cain and many more have opted to live in Miami Beach condos including posh buildings such as Icon South Beach, Apogee Miami Beach, Continuum South Beach and Murano at Portofino.
The Murano at Portofino is home to baseball greats Mike Piazza & Pedro Martinez. The beautifully appointed Murano at Portofino #2402 is priced at $4,299,000 and is a flow-through three bedroom condominium featuring built-in bar and entertainment systems. The expansive flow-through living space showcases direct unobstructed views of the Ocean, Fisher Island, Cruise Ships leaving the Port of Miami, and the downtown Miami skyline.
As one of the trendiest places to live, some celebrities are now full time residents, while most have their second or third home in Miami Beach. There's currently a scarcity of Miami Beach condos for sale in the South of Fifth's ultra-luxury waterfront buildings. The significance of the lack of new listings is often overlooked, but competitiveness in the market for listings is high as agents struggle to find inventory for their cash rich Latin American buyers and celebrity clients. "The Miami Beach market is unique when it comes to supply and demand. We've seen a high concentration of buyers and sellers in the last few years but now the swell from strong Latin American buyer demand is pushing everyone outside of Miami Beach. There's nowhere left in the South of Fifth District of Miami Beach to build, which makes the Murano at Portofino and others like it extremely attractive," says Allan Kleer, principal of TheKleerTeam at Fortune International Realty.
About TheKleerTeam and FGD Group at Fortune International Realty: Listing brokers Allan Kleer & Fabian Garcia Diaz are both Master Brokers and specialize in selling luxury waterfront properties Greater Miami, Miami Beach, Bal Harbour, Sunny Isles Beach, and South Beach for more than 30 years. With a proven track record of over $1 Billion in Closed Sales.