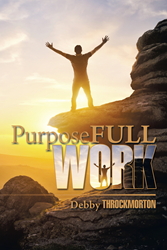 Research shows that the need for purpose and self-actualization crosses all generations.
KANSAS CITY, Miss. (PRWEB) November 18, 2014
According to a study by Harris Interactive Research, only 20 percent of working Americans feel passionate about their job. When working accounts for an average of 40 hours per week, lacking passion can negatively impact one's overall satisfaction of life.
Life coach and author Debby Throckmorton is dedicated to raising the percentage of passionate Americans in the workplace by aiding them in self-discovery and unveiling their purpose. With her five-part process detailed in her new self-coach book, "PurposeFULLwork," readers will attain the necessary skills for long-term success.
"Research shows that the need for purpose and self-actualization crosses all generations," Throckmorton said. "Millennials seek a sense of meaning in their careers. Attaining this desire can be a reality. It is never too late to begin the 'purposeFULLwork' journey."
Throckmorton challenges readers to discover their innate talents and strengths as well as develop a solid sense of purpose. She has personally discovered many passions, including avid gardening and advocating for the environment. A number of leadership positions in the mutual fund industry led her to pursue a life coaching certification. As a result, she discovered her true purpose is developing people through life coaching. The inspiration for this guide came from her work with a women's employment center—witnessing the need to encourage others to find purposeful work that meets their individual needs.
"PurposeFULLwork"
By Debby Throckmorton
ISBN: 978-1-4931-7280-1
Available in softcover, hardcover, e-book
Available on Amazon and Barnes & Noble
About the author
Debby Throckmorton began her working career serving others as a chief therapeutic dietitian before working as a communication director for both a 150-billion/one million dollar investor mutual fund company. Throckmorton has fought and won an advance stage of cancer battle. In 2010 she gained her life coaching certification from Fielding Graduate University and established a coaching program at a women's employment center.