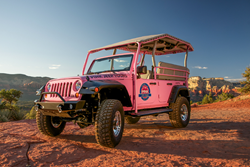 This vehicle is the next step in the evolution of our off-road tour vehicle fleet and includes improvements for the passengers, tour guides and the fleet staff to enjoy
(PRWEB) November 13, 2014
Pink Adventure Group, the premier tour company in the Southwest known for its iconic pink Jeep® Wranglers and exhilarating adventure tours, has unveiled its next generation, off-road tour vehicle to industry experts at the SEMA show in Las Vegas, Nevada. SEMA is the premier automotive specialty products trade event in the world and draws more than 60,000 domestic and international buyers.
"We're excited to be a part of the new Jeep Wrangler tour vehicle built by Pink Jeep Tours and to showcase the vehicle at the 2014 SEMA show. We're impressed with the quality of the vehicle build and privileged that Pink Jeep Tours chose our shocks and control arms for their suspension needs" says Kent Wyatt from BDS Suspensions.
Pioneering the tour industry over 50 years ago, Pink Jeep Tours is excited to introduce the first-of-its kind Jeep Wrangler tour vehicle designed and built in the Pink Jeep Tours eco-friendly service center located in Sedona, Arizona. The new tour vehicle incorporates not only the best of the best when it comes to off-road upgrades, but an improvement in both passenger safety and trail conservation, marking the beginning of a new era of more eco-focused tours starting in 2015.
To transform a stock Jeep Wrangler into a Pink Jeep Tours' vehicle requires an extensive modification process, receiving top-of-the-line enhancements. Some of the more prominent upgrades include:

Dynatrac Dana 60 axles geared at 4.56:1
Currie adjustable track bars
BDS adjustable control arms
BDS / FOX shock absorbers
Heavy-duty front and rear brake rotors with dual piston calipers
Custom running boards with AMP Research steps
Extra strong LoD signature front bumper
Cryogenically treated spark plugs
Patent pending features include custom side entry, reinforced roll cage, and custom bumper
In the passenger area, guests will enjoy a wider 20 inch marine grade closed cell foam padded seat with nearly 15% more leg room than previous models leading to an even more enjoyable tour experience. And, like all the vehicles in the fleet, it's accented with a coat of iconic pink paint.
"We have over half a century of experience in the 4x4 tour vehicle modification business and take great pride in the work we do. This vehicle is the next step in the evolution of our off-road tour vehicle fleet and includes improvements for the passengers, tour guides and the fleet staff to enjoy. We use the highest quality products and materials to ensure these vehicles are safe and hold-up to years of constant off-road use" says Greg McCallum, Corporate Fleet Manager at Pink Jeep Tours.
To experience an adventure with Pink Adventure Group, call 800-873-3662, or visit http://www.pinkjeeptours.com for more information.
# # #
About Pink Adventure Group
Pink Adventure Group, the premier adventure tour company of Arizona & Las Vegas, Nevada, was founded in 1960 and has its corporate headquarters in Sedona, Arizona. It serves visitors from around the world with a corporate fleet of 150 cutting edge vehicles and is the only tour company with guide trainers certified by the National Association for Interpretation on its staff, and the only tour company to use the professional driver training company, Smith System®, by all guides.
Media Contact
Chris Epper
928-203-7043 or 800-873-3662
chrise(at)pinkjeep(dot)com