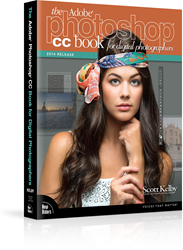 Tampa. FL (PRWEB) November 25, 2014
For ten consecutive years, President and CEO of KelbyOne, Scott Kelby has reigned as the best-selling author of Photoshop and Photography books. Scott's teaching style has helped photographers of all levels get up to speed quickly in Photoshop, while dramatically increasing productivity and skill level.
His latest Photoshop book, The Adobe Photoshop® CC Book for Digital Photographers, promises to break all the rules in how photographers learn Photoshop. Photographers can expect less "talk" and more "how-to" as Kelby cuts through the theory and delivers step-by-step instruction on the latest techniques used by today's cutting-edge digital photographers. This straightforward approach is so widely received, that previous editions of this book have been used as official study guides for photography courses at colleges and universities around the world.
Scott Kelby trains thousands of photographers, from hobbyists to professionals, on how to use Photoshop, and almost without exception he has found they have the same questions, the same problems, and the same challenges – and that's exactly what this book was derived from. Photographers will learn useful, timesaving techniques like processing HDR, mastering Photoshop's Content-Aware features, utilizing video editing features using DSLR videos, the latest special effects, and a host of shortcuts and workarounds that aid in productivity.
The Adobe Photoshop® Book CC for Digital Photographers also features a ton of extra content, like a special chapter outlining Scott's personal workflow along with four bonus chapters with all the images used in the book and where you can download them. There's also a Photoshop Killer Tips" section found at the end of every chapter, dedicated to the quick and essential tips that make all the difference.
Those interested are invited to visit kelbyone.com/scott to learn more about The Adobe Photoshop® Book CC for Digital Photographers and can also download a chapter from the book, completely free. Just sign up using a valid email address and the free chapter will be available for instant download.
KelbyOne is now taking orders for this book. Those looking to order The Adobe Photoshop® Book CC for Digital Photographers can do so in either digital or hardcopy formats by visiting KelbyOne.
For more information about Scott Kelby's The Adobe Photoshop® Book CC for Digital Photographers and how to order visit KelbyOne.
About KelbyOne: Formerly The National Association of Photoshop Professionals (NAPP) and KelbyTraining.com, KelbyOne is leading resource for online creative education worldwide. For more information please visit http://www.kelbyone.com.