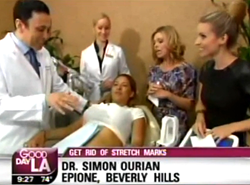 Los Angeles (PRWEB) November 11, 2014
On November 3, 2014, Elle Magazine posted an online report titled "Why I Froze the Fat Off My Thighs" that details the author's experience with the fat-freezing CoolSculpting treatment. The CoolSculpting technology is based on the idea that freezing temperatures can be applied to the skin to selectively eliminate fat cells without damaging the surrounding tissue. The treated fat cells crystallize and die and are then eliminated naturally from the body. Once the treated fat cells are removed, they are gone for good. (see: goo.gl/ti3wKp)
"We offer CoolSculpting in our clinic," says Dr. Simon Ourian, Medical Director of Epione Beverly Hills. "I'm not at all surprised that the author fell asleep during her treatment, there generally is no discomfort at all reported by our patients."
According to the Elle Magazine report, CoolSculpting is FDA-approved to spot reduce fat on the inner and outer thighs. During the FDA trials, 86 percent of patients claimed to see a visible reduction in their thigh fat. Each non-invasive and (reportedly) painless treatment takes approximately one hour. The author underwent six consecutive treatments, two for each outer thigh and one session for each inner thigh. Three months post-treatment, the author reports a noticeable difference on both thighs.
"We augment CoolSculpting with ultrasound/radio frequency treatments to enhance the skin tightening effect of the procedure," says Dr. Ourian. "We find that this combination offers the best overall results."
Dr. Ourian has been a pioneer in laser technology and non-invasive aesthetic procedures including Restylane, Juvéderm, Radiesse, Sculptra, and CoolSculpting. These treatments are used for the correction or reversal of a variety of conditions such as acne, acne scars, skin discoloration, wrinkles, unwanted fat, stretch marks, varicose veins, cellulite, and others. More information about CoolSculpting can be found on Epione's website.