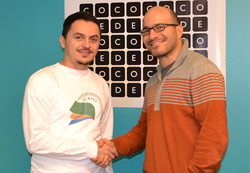 Soon, coding will become just as much of an essential skill as reading and math. I believe everyone should learn to code
Bellevue, WA (PRWEB) November 13, 2014
EDUonGo, Inc, a cloud-based learning platform that hosts online academies, has teamed up with teachers across Albania and Kosovo to sponsor Almooc, a non-profit Albanian Open Online Course (MOOC) that provides free qualitative education to Albanians, for the Hour of Code event in December 2014.
The Hour of Code is a global movement reaching tens of millions of students in more than 180 countries. One-hour tutorials are available in over 30 languages. As Code.org's official Albanian chapter partner, Almooc is spearheading opportunity for Albanians to learn how to code at http://hourofcode.com/al.
Ridvan Aliu, CEO of EDUonGo and founder of Almooc, had been teaching coding courses at US colleges for more than eight years when he learned about the Hour of Code. Inspired by Code.org's mission to teach the basics of computer science to students across the globe, Aliu launched his own Albanian Hour of Code academy in 2014. Within six months he attracted thousands of students and soon teamed up with several other instructors to found Almooc.
Using the EDUonGo learning platform and online courses, Almooc plans to help Code.org reach their 100 million person goal by collaborating with the Albanian government, schools, teachers and students with one hour code tutorials.
"I'm very excited that Almooc and Code.org are now partners in this magnificient endeavor," says Aliu. "The upcoming Hour of Code is a global event that every Albanian should participate in. Soon, coding will become just as much of an essential skill as reading and math. I believe everyone should learn to code. "
About Almooc
Almooc is an Albanian Massive Open Online Courses (MOOC) that offers qualitative education to Albanians free of charge. Almooc partners with distinguished instructors in various industries, including award winning learning platform, EDUonGo, to deliver online professional courses in the Albanian language for people of all ages.
About EDUonGo
EDUonGo enables anyone to share knowledge through an online learning environment. Schools, institutions and individuals partner with EDUonGo to host online academies through its cloud-based platform. With more than 1,000 registered institutions and over 30,000 users worldwide, EDUonGo is the fastest and most powerful way for anyone to launch an online academy. For more information, visit http://www.EDUonGo.com.