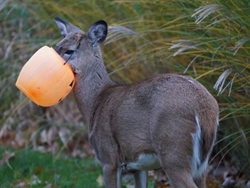 This story should have people thinking about pest control in a different light.
Chicago, IL (PRWEB) November 11, 2014
On November 10 an Ohio deer captured national attention when concerned residents discovered it had a plastic Halloween pumpkin stuck on its head, covering its mouth which prevented it from eating or drinking (WKYC Channel 3 News). There was then a sigh of relief late-afternoon when the deer was finally freed from the plastic pumpkin by rescue workers, but the situation raises questions about the dangers that can occur when wildlife get too close to humans. Bird-X, humane animal control experts, explains why this story should have people thinking about pest control in a different light.
This situation was most likely caused by a child leaving a trick-or-treating Halloween pumpkin out, and as the Channel 3 story reported, "Neighbors say now that it's over, this definitely won't happen next Halloween because all the kids in the neighborhood know not to leave their buckets out again."
Deer are a common "pest" animal that Bird-X, humane pest control experts for over 50 years, commonly deals with. Not only can human materials such as plastic pumpkins hurt deer, so can any kind of pesticide sprayed on grass, trees, or other shrubbery that deer eat.
Deer also become pests to humans when they eat said landscaping or spread parasites such as deer ticks, but deer control can prove to be extremely difficult. Building fences is very effective, but not always practical or desirable for certain locations such as front porches. Since deer are creatures of habit, the most effective deer control methods involve making areas uncomfortable and unwelcoming, keeping deer away from harm as well as protecting human property and health.
The Deer Gard is an electronic deer repellant device that is motion-activated, nearly silent to humans, and extremely effective in keeping deer out of treated areas. It uses sound waves that are above the human range of hearing, but are heard loud and clear by deer and other pest animals. When used on a porch or outdoor area, it irritates deer the closer they get, and is very effective in changing undesirable habits such as eating landscaping.
The Deer Gard does not harm deer or other pest animals, it simply irritates them to keep them out of areas they aren't wanted. The sound waves won't penetrate walls so dogs, cats, and other pets out of range are not affected.
Another solution is to scatter irritating scent granules around areas where deer aren't welcome. Some sources say chili pepper, dried peppermint, vinegar, or other home remedies work, but Bird-X has found a combination of these irritants is the best solution, which is what led to the creation of Nature's Defense. This all-natural, biodegradable organic product has been repelling pest animals (especially deer) for many years.
Bird-X, Inc. has spent over 50 years as the leading international brand of humane bird and pest control products and is dedicated to protecting the health of humans, wildlife, and the environment in which we all live. The Chicago-based company manufactures a complete line of unique pest control products with an unmatched focus on quality, efficacy, and customer service.