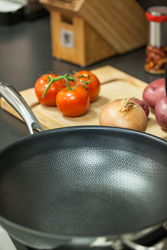 Houston, Texas (PRWEB) November 13, 2014
Stock the kitchen for holiday entertaining – or gather gifts for foodies with these innovative kitchen tools (http://tinyurl.com/kay8w3g) to help celebrate the season.
The Scandinavian-inspired Peugeot Duo Snö Salt and Pepper Set was created for holiday tables, pairing a tree-shaped pepper mill with a "snow-capped" white top, with a joyful saltshaker shaped like a snowman. The pepper mill features Peugeot's fully adjustable mechanism, the strongest on the market. Amazon.com.
The Kuhn Rikon Meat Fork and Spoon is a two-in-one tool that makes prepping and serving easier. Features two large forks and two interlocking scoop attachments, one slotted, and the other solid. Use the forks by themselves to lift meat out of the oven, or attach the forks to the scoops to serve vegetables and potatoes. Amazon.com.
Imagine a nonstick fry pan that is safe for use with metal utensils. Frieling's BLACK CUBE Stainless Nonstick Cookware features an exclusive textured surface that offers the traditional longevity and browning capabilities of stainless steel, plus the easy cleanup and low-fat cooking options of nonstick. Direct.Frieling.com
Behind every perfect roast or turkey is a cooking thermometer. The CDN ProAccurate Waterproof Thermometer is a sturdy professional-grade model with features every home cook needs: a quick 6-second response time, a wide temperature range, large digital display and a high waterproof rating, just in case it drops into a sink full of water. KitchenKaboodle.com
Impress guests with specialty coffees in a flash, from coffee to lungo, café crème, espresso, cappuccino or latte macchiato. The JURA IMPRESSA F8 TFT is the first compact automatic coffee center with a color display screen. Aroma+ grinder grinds beans gently, and faster, for more flavor and aroma. JURA's fine foam technology for delicious milk foam with a feather-like consistency. Also makes hot chocolate and tea. us.jura.com
Make holiday baking easier and prettier with new decorative styles of Welcome Home Brands Paper Bakeware. For entertaining or gift giving: bake, serve, store and give baked goods in one mold. No pre-greasing or messy cleanup. Freezer safe and oven-safe up to 400° F. WelcomeHomeBrands.com.