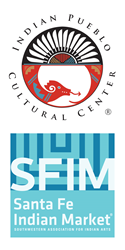 We're extremely excited to partner with the IPCC as both organizations seek increased opportunities to promote Native American fine art and educate the world about our art and cultural expression— SWAIA COO Dallin Maybee
Albuquerque, NM (PRWEB) November 11, 2014
The Indian Pueblo Cultural Center (IPCC) and the Southwestern Association for Indian Arts (SWAIA) will announce a new partnership to promote Native American art and artists on Thursday, November 13th at 5:30 p.m. at the IPCC (2401 12th Street Northwest).
Dallin Maybee, Chief Operating Officer of SWAIA, and Michael Canfield, President of the Indian Pueblo Cultural Center, will sign the partnership agreement.
Hopi artist Gerald Lomaventema, the 2014 Santa Fe Indian Market Best in Jewelry winner, will create jewelry live on site during the event, and Acoma potter C.J. Shije will demonstrate the craft of traditional Pueblo pottery. Other program highlights include flute music from award-winning artist Adrian Wall of Jemez Pueblo and a traditional blessing from Shumakolowa staff member and Native American arts expert Andrew Thomas.
IPCC and SWAIA are joining forces to mutually promote the dignity, respect and artistic excellence of Native American artists who have been a part of SWAIA Santa Fe Indian Market and continue to produce a superior level of artwork.
"We're extremely excited to partner with the IPCC as both organizations seek increased opportunities to promote Native American fine art and educate the world about our art and cultural expression," said SWAIA COO Dallin Maybee (Seneca/N. Arapaho). "Native artists encapsulate and reflect the beauty of our cultural identity in their art forms and we are grateful that the IPCC sees the value in assisting SWAIA in fulfilling our mutual missions."
Michael Canfield, IPCC President is equally as excited about the partnership. "This will be a game changer in its economic impact on the Native arts community," he said. "With the combined resources and reputations of both of our organizations, we can bring attention to those artists who create high-quality work and provide economic development opportunities for Native artisans."
The November 13th event brings together world-class Native American artists who have gone through the rigorous judging standards of Santa Fe Indian Market and who will benefit most from the partnership between SWAIA and IPCC. The event also marks the launch of Shumakolowa.com, an e-commerce site dedicated to promoting and selling certified authentic Native American created art.
About the Indian Pueblo Cultural Center
The Indian Pueblo Cultural Center is a world-class museum and cultural center located in the historic Albuquerque Indian School District just minutes from Old Town and Downtown Albuquerque. Founded in 1976 by the 19 Pueblo Indian Tribes of New Mexico, it is a leading destination for education, art and entertainment. IPCC promotes authentic handcrafted art from Native American artists working today through its online store Shumakolowa.com. http://www.facebook.com/IndianPueblo http://www.indianpueblo.org
IPCC Contact: Lindsay Lancaster, Director of Marketing, Indian Pueblo Cultural Center
505.724.3501 (office) 505.980.1767 (mobile)
llancaster(at)indianpueblo(dot)com
About SWAIA-Santa Fe Indian Market
In their 94th year, the Southwestern Association for Indian Arts produces the annual Santa Fe Indian Market®, the largest and most prestigious Native fine art show in the world. The Santa Fe Indian Market® exists to provide a platform for established and aspiring Native/Indigenous artists to nurture and sell the art they create.
###