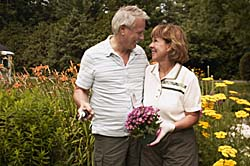 Palo Alto, CA (PRWEB) November 11, 2014
Avenidas is pleased to announce that new director, Steve Hardy, has recently started at the adult day health care center in Mountain View called Avenidas Rose Kleiner Center.
Throughout his life and career, music has pulsated like a heartbeat for Hardy. After getting a Bachelor of Arts in psychology from the University of Maine, he then earned a master's in expressive therapies from Lesley University. He became a Board Certified Music Therapist in 1997 and is a professional member of the American Music Therapy Association.
One of his first presentations as the new Avenidas Rose Kleiner Center Director as part of the Family Caregiver 101 series was on how to use music to engage older people who are living with memory loss.
In his free time, Hardy is a singer in the Oakland East Bay Gay Men's Chorus.
"I'm proud to be a singer member of this great community chorus, and I currently hold the roles of section leader, chair of the Personnel Committee, member of the Artistic Director Search and Membership Committees," he states.
Hardy's career has also been fueled by a strong desire to help others. He served as a clinical professional counselor/psychotherapist at The Institute of Spontaneity, as a psychotherapist at The Muki Baum Association and as Alzheimer's & dementia director at Peninsula Volunteer's Rosener House-Adult Day Services.
Additionally, he served as director of community engagement, activities & volunteers at Mercy Retirement & Care Center and as executive director (associate & interim) at AlmaVia (of both San Rafael & Union City), and administrator (RCFE) at Salem Lutheran Home. Hardy also worked for 14 years in long-term care at Eldercare Alliance Communities in the Bay Area in a variety of managerial roles.
"I developed rapport with elders, loved ones and employees through individual and group engagement, clear guidelines and championing core values and mission integration," said Hardy. "I'm known for my coaching and collaborative leadership-style and I focus on relationship-building as the cornerstone of success, and I look forward to implementing that focus here at Avenidas Rose Kleiner Center."
Hardy continued, "I hope to further enrich the memory care programming that Avenidas Rose Kleiner Center offers and partner with more resources in the community in innovative ways."
For any questions or to schedule a tour of Avenidas Rose Kleiner Center, please call Hardy at (650) 289-5498 or email him at shardy(at)avenidas.org.
About the organization:
Avenidas Rose Kleiner Center is a program of the non-profit agency Avenidas. It seeks to create a community that supports and celebrates older adults and provides a wide range of support options, information and services that enable people to stay active, maintain their independence, help their aging parents or care for a spouse. Avenidas' innovative programs and compassionate staff help enrich the lives of more than 6,500 mature adults and their families each year. Avenidas serves the mid-Peninsula communities of Palo Alto, East Palo Alto, Stanford, Menlo Park, Los Altos, Los Altos Hills, Atherton, Portola Valley, Woodside and Mountain View. For more information, please visit http://www.avenidas.org.