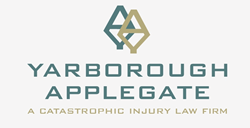 Despite what may be perceived as a very large verdict for Mr. Hernandez, he has been awarded an amount that will be entirely consumed by his medical bills and basic daily needs.
Charleston, SC (PRWEB) November 12, 2014
Yarborough Applegate, a Charleston, South Carolina-based law firm, achieved a $35,940,545 verdict against Pepco in Montgomery Co., Maryland Circuit Court, for their client Hugo Hernandez, paralyzed at a Pepco substation on May 6, 2013. The jury awarded our client $869,211 in past medical bills, $45,095 in past wages, $1,080,050 in future wages, $18,946,400 in future medical expenses and $15,000,000 in non-economic damages. (Case Number: 379804V, Circuit Court for Montgomery County Maryland.)
The verdict followed a two-week jury trial argued by lead attorneys William E. Applegate, IV, David B. Yarborough, Jr. and David B. Lail of Yarborough Applegate law firm and local counsel Justin Brown of Janet Jenner and Suggs. The verdict is believed to be the largest ever in an injury case in Montgomery Co., Maryland. Post-trial, the verdict was reduced to $21,710,545 due to a $770,000 cap on non-economic damages.
According to court documents, in May 2013, construction worker Hugo Hernandez Palomino was paralyzed from the neck down due to a work-related injury at a Pepco site. Hernandez was working on scaffolding at a Pepco powerhouse in Montgomery County, Maryland when a transformer, that he had been told and promised in writing by PEPCO was completely de-energized and safe, electrocuted him. The shock force burned 10% of his body and knocked him off of the scaffolding. He landed on concrete, snapping his spine. As a result of the accident, Mr. Hernandez is a C-4 ASIA A quadriplegic – permanently paralyzed from the neck down. He can no longer work and will require 24-hour attendant care for the rest of his life.
Potomac Electric Power Company (Pepco), the defendant in the case, is a subsidiary of Pepco Holdings, Inc., one of the largest energy delivery companies in the Mid-Atlantic region. The company serves nearly two million customers in Delaware, the District of Columbia, Maryland and New Jersey.
After initially filing court documents denying liability, Pepco and their insurers, AIG and AEGIS, admitted fault but refused to pay for Hernandez's lost wages and the future medical care costs dictated by his physicians which led to the jury trial. "They admitted liability only because we had them dead to rights, but then they still refused to accept responsibility for the harm they caused," said attorney David Yarborough. "Pepco has disingenuously stated publicly that they have always planned to fairly compensate Mr. Hernandez, yet in court they have aggressively defended and litigated this case for the past 18 months." The judgment was entered on October 30, following the jury verdict.
According to court documents, Yarborough Applegate attorneys presented evidence at trial that Hernandez's future medical care necessitates 24 hours of licensed practical nurse (LPN) care per day. An economist testified that the present value cost of funding Hernandez's 24-hour LPN and other medical care for the next 52 years is $22.2 – 24.4 million.
"Despite what may be perceived as a very large verdict for Mr. Hernandez, he has been awarded an amount that will be entirely consumed by his medical bills and basic daily needs. Unfortunately, due to the statutory caps on damages in Maryland and the fact that the jury is not informed of the statutory cap, Mr. Hernandez's award was reduced by over 14 million dollars that the jury had determined to be fair compensation for his injuries," said attorney William Applegate. "He is, however, very grateful for the verdict and is hopeful the remainder of the award will be paid, and he can begin receiving the care he needs. We're happy the jury delivered a verdict that can help this young man through a horrible tragedy who simply wants to be properly cared for so he can live a fulfilling life and be a productive member of society."
As a South Carolina-based catastrophic injury law firm, Yarborough Applegate is sought after both by injured individuals and by other attorneys as lead trial counsel in catastrophic and complex injury and commercial cases, not just in their home state, but across the U.S.
About Yarborough Applegate
Yarborough Applegate represents individuals who have been catastrophically injured or killed as a result of the negligence of others. With their clients' best interests in mind, Yarborough Applegate advocates zealously on their behalf to provide every legal remedy available. Visit their website for a complete list of practice areas. Contact them at 843.972.0150, info(at)yarboroughapplegate(dot)com, yarboroughapplegate.com or at their office, 291 East Bay Street, Second Floor, Charleston, South Carolina 29401.
Contact:
Laura Peirano
Ph: 843.972.0150
laura(at)yarboroughapplegate(dot)com
###