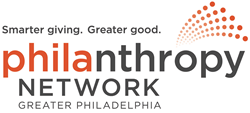 "When we share information like this study, and connect with each other through the Network, we will collectively give smarter and achieve greater good for the region."
PHILADELPHIA, PA (PRWEB) November 13, 2014
Philanthropy Network Greater Philadelphia released the report 2014 Giving in Greater Philadelphia at a meeting of more than 350 of the region's philanthropic, nonprofit and government leaders. Compiled from a survey of the Network's members, the study identifies recent trends, priorities and practices of key players in Greater Philadelphia's philanthropic landscape. The report examines current, relevant information on giving in the five-county area, including data from categories of donors often omitted from similar studies, such as corporations.
"Nearly every day we are asked, what are the sources of philanthropy? What are the priorities? What are the trends? How much is being donated?" said Debra Kahn, Executive Director of Philanthropy Network Greater Philadelphia. "This study begins to answer these questions."
Kahn added that it was not the intent of the study to tally the total dollars given in the region, which are in fact much higher than the number— $248 million—reported in this survey, but rather to tap into giving trends of a broad array of funders.
Among the key findings, the report indicates that philanthropy in the region is stable and growing, tracking the national trends and indicating that the region's funders are recovering from the recession. Reported giving grew 10% from 2011-2013.
Also of interest is what philanthropists are funding. Education; Arts and Culture; and Human Services top the list of priorities for the region's funders, reflecting both Greater Philadelphia's greatest challenges and biggest strengths. Education alone accounted for nearly one-third of regional grant dollars awarded by respondents, and funders expressed concerns about public spending on education, particularly in Philadelphia.
According to the report, in 2013 respondents gave $67 million (30%) to support programs in Education. Arts and Culture received $49 million (22%), while $39 million (18%) went to support Human Services. These priorities reflect funders' top-of-mind concerns, including poverty and economic and educational disparities, as well as philanthropy's key role in creating and sustaining the region's vibrant arts and culture scene.
"Our members are deeply committed to the region's well-being, in touch with its most pressing needs, and focused on how to achieve greater impact" said Susan Segal, President, Philanthropy Network's Board of Directors and Program Officer, Lincoln Financial Foundation.
The study also gathered baseline data on topics such as the use of best philanthropic practices among the Network's members, as well as gauged interest and investment levels in the five issue areas the group identified for its new Sparking Solutions agenda: reading by fourth grade; preventing and ending homelessness; reducing hunger and fostering healthy eating; increasing access to health care; and supporting youth safety. The initiative aims to foster collaborative action, with philanthropy as a catalyst, to improve conditions and change lives in Greater Philadelphia.
The study found that 87 percent of survey respondents funded one or more of the Sparking Solutions issues in 2013, collectively donating over $55 million. Forty-five percent of respondents funded programs that promote reading by fourth grade, with combined contributions totaling over $19 million.
Segal added that while many of the Network's members are funding education, the Network works to educate funders.
"Philanthropy requires hard work and an informed approach to have a meaningful impact," explained Segal. "When we share information like this study, and connect with each other through the Network, we will collectively give smarter and achieve greater good for the region."
About Philanthropy Network Greater Philadelphia
Founded in 1988 as Delaware Valley Grantmakers, Philanthropy Network Greater Philadelphia is the region's membership association for organizations and individuals active in philanthropy. Serving primarily Philadelphia, Bucks, Montgomery, Chester and Delaware counties, plus adjacent areas, Philanthropy Network Greater Philadelphia champions the role of philanthropy in improving the quality of life in the Greater Philadelphia region and educates and inspires members to do their best giving. Believing that the whole is greater than the sum of its parts, Philanthropy Network fosters connections and collaborations to enhance the impact of local philanthropy and brings funders together with civic leaders, government and community organizations to address areas of mutual interest.
For more information, please visit http://www.PhilanthropyNetwork.org.