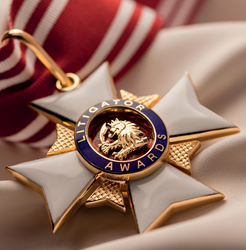 "A Virtual Fraternity of Super-Star Trial Lawyers"
Bellevue, WA (PRWEB) November 12, 2014
The Trial Lawyers Board of Regents extends is gratitude to al the Trial Lawyers, Judges, and Press whom have helped make the 2014 Litigator Awards a reality. Based upon the overwhelming response, the Awards which will be conferred nationally for the first time, are on track to be a tremendous success.
The National Nominations Committee proudly congratulates the following Law Firms who stand amongst a partial list of the most recent 2014 Litigator Award Nominees and/or Nominees who have recently submitted Declaration Ballots.
New York
Block, O'Toole & Murphy
Bottar & Leone
Brown Chiari, LLP
Gair, Gair, Conason, Steigman
The Perecman Firm
Cellino & Barnes
Cherundlo Law Firm
Danker, Milstein & Ruffo
Finz & Finz
Gersowitz, Libo & Korek
Brindisi, Murad, Brindisi & Pearlman
Hecht, Kleeger & Damashek
The Rothenberg Law Firm
Mark L. Bodner, PC
Mirman, Markowits & Landau
Napoli, Bern & Ripka
Parker, Waichman, Alonso
Queller, Fisher, Washor, Fuchs & Kool
Salenger, Sack, Kimmel & Bravaro
The Perecman Firm
Fitzgerald & Fitzgerald
Kramer, Dillof, Livingston & Moore
Frekhtman & Associates
Godosky & Gentile
Gorayeb & Associates
Jaroslawicz & Jaros
Levy, Philips & Konigsberg
Lipsig, Shapey, Manus & Moverman
Moreli, Alters, Ratner
Pegalis & Erikson
Powers & Santola
Rosenberg, Minc, Falkoff & Wolff
Rubenstein & Rynecki
Sakkas, Cahn & Weiss
Siegel & Coonerty
Silberstein, Awad & Miklos
Thompson Wigdor
Tomkiel & Tomkiel
Worby, Groner & Edelman
Zaremba, Brownell & Brown
Connors & Vilardo
Robinson & Yablon
Trolman, Glaser & Lichtman
Burns & Harris
Dinkes & Schwitzer
Raphaelson & Levine
Law Office of James J. McCrorie
Sonin & Genis
Friedman, Levy, Goldfarb & Green
California
Aitken, Aitken & Cohn
Alder Law
Alexander Law Group
Arias, Ozzello & Gignac
Baum, Hedlund, Aristei & Goldman
Bennett Johnson
Bisnar & Chase
Blackman Legal Group
Bohn & Fletcher
Bostwick & Peterson
Callahan & Blaine
Casey, Gerry, Schenk, Francavilla, Blatt
Casper, Meadows & Schwartz
Charles T. Meadows & Associates
Estey & Bomberger
Girardi & Keese
Gomez Law
GJEL Accident Attorneys
Greene, Broillet & Wheeler
Hiepler & Hiepler
Katateck, Brown, Kellner
Law Office of Gary A. Dordick
Mardirossian & Associates
Mary Alexander & Associates
McCune Wright, LLP
Nadrich & Cohen, LLP
R. Rex Parris Law Firm
Ringler Schmidt
Rizio & Nelson
Shea & Shea
Steinbrecher & Associates
The Bernheim Law Firm
Law Office of Brian Brandt
Manly & Stewart
The Torkzadeh Law Firm
Shegerian & Associates
Shernoff, Bidart, Echeverria
Vastano & Angarella
Walkup, Melodia, Kelly & Schoenberger
Waters, Krause & Paul
DiMarco, Arauo & Montevideo
The McClellan Law Firm
Baker, Burton & Lundy
The Gomez Firm
Abramson, smith & Waldsmith
Biren Katzman Trial Lawyers
Hodes, Milman & Liebeck
The Brandi Law Firm
The Basile Law Firm
Agnew & Brusavich
Van Der Walde & Associates
Texas
Abraham, Watkins, Nichols, Sorrels, Agosto
Glasheen,Valles & Inderman
Hartley Hampton
Provost Umphrey Law Firm
Law Office of Clay Dugas & Associates
Richard J. Plezia & Associates
Terry & Thweatt, PC
The Brown Law Firm
The Mulligan Law Firm
Tom Rhodes Law Firm
Williams & Brown
Woodson Law Firm
Baron & Budd
Hagood Nueuman
Hagan, Noll & Boyle
Marynell Maloney Law Firm
Nemeroff Law Firm
Liles Harris, PLLc
Sloan, Bagley, Hatcher & Perry
Tracey Law Firm
Brunkenhoefer Turman, PLLC
Gauthier, Houghtaling & Williams
The Lanier Firm
The Schmidt Firm
Bohannon Legal
Goudarzi &Young
Norris & Cantu
Watts, Guerra & Craft
Law Office of Pat Maloney
Matthews & Associates
Stephens, Anderson & Cummings
Curtis Law Group
Gonzalez, Chiscano, Angulo & Kasson
Thomas J. Henry Injury Attorneys
Reyes, Browne & Reilley
Arnold & Itkin, LLP
Napoli, Bern, Ripka &Shkolnik
Nemeroff Law Firm
Sico, White, Hoelscher & Braugh
Barton Law Firm
Ketterman, Rowland & Westlund
Robert Kwok & Associates
The Girards Law Firm
Reich & Binstock
Roberts & Roberts
The Garriga Law Firm
The Meyer Law Firm
Fibich, Hampton, Leebron, Briggs & Josephson
Florida
Searcy, Denny Scarola
Steinger, Iscoe & Green
Alpizar Law, LLC
Ansel & Miller
Baker & Zimmerman
Beasley, Hauser, Kramer & Galardi
Brotman, Nusbaum & Ibrahim
Abrahamson & Uiterwyk
Clark & Martino
Clark,Fountain, La Vista, Prather, Keen
Cody,Fowler & Davis
Freidin, Dobrinsky, Brown
Colson, Hicks, Eidson
Colling, Gilbert, Wright & Carter
Colson, Hicks & Eidson
Cytryn & Velazquez
Didier Law Firm
Farrel & Patel
Florida Aviation Counsel
Gordon & Doner
Florin Roebig
Law Office of Sheldon J. Schleinger
Greenberg, Stone & Urbano
Lavalle, Brown & Ronan
Leesfield & Partners
Levin, Papantonio, Thomas, Mitchell, Rafferty
Lilly, O'Toole & Brown
Ratzan Law Group
Riley Allen Law
Silver Law Group
Spivey Law Firm
Hook & Bolton
Jay Halpern & Associates
Kelley Uustal
Kerrigan, Estess, Rankin, McLeod & Thompson
Schuler, Halvorson, Weisser, Zoeller & Overbeck
Lipcon, Margulies, Alsina & Winkleman
Lytal, Reiter, Smith, Ivey & Fronrath
Martinez Manglardi
Michles & Booth
Morgan & Morgan
Neufeld, Kleinberg & Pinkiert
Searcy, Denney, Scarola, Barnhart & Shipley
Stabinski & Funt
Steinger, Iscoe & Greene
Boyle, Gentile & Leonard
Harmon, Woods, Parker, Hendricks & Abrunzo
Metnick, Levy & Dyson
The Ferraro Law Firm
Ellis, Ged & Bodden
Aronberg & Aronberg
Maryland
Goldberg, Finnegan & Mester
Law Office of Peter G. Angelos
Morgenstern Injury Lawyers
Schocher, Federico & Staton
Snyder & Snyder
The Yost Legal Group
Wais, Vogelstein & Bedigian
Chasen Boscolo Injury Lawyers
Salsbury, Clements, Bekman, Marder & Adkins
Belsky, Weinberg & Horowitz
Kahn, Smith & Collins
Law Offices of Evan K. Thalenberg
Law Offices of Stephen J. Nolan
Law Offices of Steven H. Heisler
Otway, Russo & Rommel
McCarthy Winkelman
Jaklitsch Law Group
Portner & Shure
Alpert Schreyer
Houlon, Bergman, Finci, Levenstein & Skok
Sandler Law, LLC
Law Office of Thomas L. Heeney
The Suder Law Firm
McGowan & Cecil
Walter E. Laake, Jr., Esq
Karp, Frosh, Wigodsky & Norwind
New Jersey
Andres & Berger
Cerussi & Gunn
Drazin & Warshaw
Eichen, Crutchlow, Zaslow & McElroy
Folkman Law Offices, PC
Gill & Chamas, LLC
Ginarte, O'Dwyer, Gonzales, Gallardo
Gordon & Gordon, PC
Hobbie, Corrigan & Bertucio
Javerbaum, Wurgaft, Hicks, Kahn, Wilkstron
Law Offices of Rosemarie Arnold
Levinson & Axelrod
Lynch, Lynch, Held, Rosenberg & Perkins
Maggiano, DiGirolamo & Lizzi
Martin, Kane & Kuper
Nagel Rice, LLp
O'Connor, Parsons & Lane
Seigel Capozzi Law Firm
Tepper, Scherling & Berliner
Stephen S. Weinstein, PC
Law Offices of Palmisano & Goodman
Westmoreland, Vesper, Quattrone & Beers
Mazie, Slater, Katz & Freeman
Edward C. Lutz, LLC
Ohio
Crandall, Pera, Wilt
Elk & Elk
Kisling, Nestico & Redick
David P. Meyer & Associates
Donahey & Associates
Mishkind Law Firm
Steven M. Goldberg Co., LPA
The Becker Law Firm
Bonezzi, Switzer, Murphy, Polito
Djordjevic, Casey & Marmaros
Greene & Eisen
The Donahey Law Firm
Colley, Shroyer & Abraham
Rourke & Blementhal
Helmer, Martins, Rice & Popham
James E. Arnold & Associates
Thomas & Lyon
E.J. Leizerman & Associates
Allen Schulman & Associates
Ciano & Goldwasser
Slater & Zurz
Mellino Robenalt
Lafferty, Gallagher & Scott
Kitrick,Lewis & Harris
Nuremberg Paris
Schiff & Associates
Gary Osborne & Associates
Meyer & Wilson
Novak & Pavlik
Illinois
Beutel, Hurst & Boleky
David K. Kremin & Associates
Gori Julian & Associates
Jamie M. Trapp & Associates
Kathleen T. Zellner & Associates
Klest Injury Law Firm
Meyers & Flowers
Passen Law Group
Rapoport Law Offices
Romanucci & Blandin
Salvi, Schostok & Pritchard
DiFranco & Associates
Donald A. Shapiro, Ltd.
Frederick & Hagle
Goldberg, Weisman, Cairo
Horwitz, Horwitz & Associates
Hurley, McKenna & Mertz
James D. Montgomery & & Assoc.
Kanoski Bresney
Kroot Law, LLc
Law Offices of Parente & Norem
Levin & Perconti
Malman Law
McNabola Law Group
Power, Rogers & Smith
Simmons, Browder, Ginaris, Angelides
Trapp & Geller
Willens Law Office
The Jasmer Law Firm
Budin Law Offices
Flint & Associates
Kreisman Law Offices
Levin Riback Law Group
Tapellas & Eberspacher
Schoen, Walton, Telken & Foster
North Carolina
Abrams & Abrams
Charles G. Monet III & Assoc
Comerford & Britt
Davis Law Group
Fisher, Stark, Cash
Hardee & Hardee
Henson Fuerst
Law Office of Michael DeMayo
Nagle & Associates
Deuterman Law Group
Whitley Law Firm
Price, Smith, Harget
Taibi Kornbluth
Teague & Glover
Twiggs, Strickland & Rabenau
Hardison & Cochran
Washington
Coluccio Law
Davis Law Group
Edward K. Le, PLLC
Graham, Lundberg & Peschel
Luvera, Barnett, Brindley
Mariano Morales Law
Adler Giersch
Bishop Legal
Brett Murphy Law
Paglialunga & Harris
Kansas
Patterson Legal Group
Wall Huntington
Pottroff Law Office
Prochaska, Giroux & Howell
Ralston, Pope & Diehl
Bartimus,Frickleton, Robertson
Cloon Law Firm
Hutton & Hutton
Palm, Leatherman, White & Girard
Louisiana
Clayton & Fruge
Boherer Law Firm
Broussard & David
Anderson, Dozier & Blanda
Cox, Cox, Filo, Camel & Wilson
Domengeaux, Wright, Roy & Edwards
Due, Price, Guidry, Piedrahita, Andrews
Fisher Injury Lawyers
Gaar Law Firm
Gordon McKernan Injury Lawyers
Harrel & Nowak
Locke, Meredith, Sean, Fagan
Morrow, Morrow, Ryan & Bassett
Neblett, Beard & Arsenault
Simon Law Offices
The Laborde Law Firm
The Marionneaux Law Firm
The Voorhies Law Firm
Waddell Anderman Law Firm
Walters, Papilllion Thomas & Cullens
Unglesby Law Firm
Alabama
Beasley, Allen, Crow, Methvin, Portis
Belt Law Firm
Burge & Burge
Cory, Watson, Crowder & DeGaris
Cunningham Bounds, LLC
Greene & Philips
Hare, Wynn, Newell & Newton
Hollis, Wright & Harrington
Hornsby, Watson, Hornsby & Blackwel
Pittman, Hooks, Dutton, Kirby & Hellums
Prince, Glover & Hayes
The Cochran Firm
Rufus R. Smith, Jr.
Walton Law Firm
Wettermark. Holland & Keith
Nevada
Shook & Stone
Durney Brennan
Mainor Wirth
Wetherall Group
Crockett & Meyers
Benson & Bingham
Eglet Wall
Foley & Oaks
Henness & Haight
Richard Harris Law Firm
Fenton, Grant, Mayfield, Kaneda
Arkansas
Duncan Firm
Easley & Houseal
McDaniels & Wells
Scholtens & Averitt
Taylor King Law
Rainwater Holt & Sexton
Bailey & Oliver
Connecticut
D'Amico, Griffin & Pettincicchi
Suisman Shapiro Attorneys
Trantolo & Trantolo
The Berkowitz Law Firm
Polito & Quinn
Toother & Wocl
Koskoff, Koskoff & Bieder
Kentucky
Bahe, Cook, Cantley
Becker Law Office
Cooper & Friedman
Dolt, Thompson, Shepherd
Driscoll & Associates
Hargadon, Lenihan & Herrington
Gray & White
Kaufman, Stigger & Hughes
Richard Breen Law Offices
Osborne & Graves
Stephen M. O'Brien III
The Poppe Law Firm
The Shelton Law Group
Varellas & Varellas
Oliver & Oliver
True, Guarnier, Ayer
Indiana
Matthew D. Barrett, P.C.
Doehrman Buba
Kenn Nunn Law Office
Kenneth J. Allen & Associates
Schafer & Schafer
Foley & Small
Keller & Keller
Schad & Schad
Wagner Reese
Boren, Oliver & Coffey
Colorado
Bachus & Schanker
Burg Simpson
Metier Law Firm
Chalat, Hatten, Koupal & Banker
The Gilbert Law Group
Fisher & Associates
Purvis Gray, LLP
Sears & Associates
Michigan
Buchanan & Buchanan
Cochran, Foley & Associates
Fieger Law
Goodman Acker
Goren, Goren & Harris
Hertz Schram
Mindell, Malin, Kutinsky, Stone
Nickola & Nickola
Ravid & Associates
Reiter & Walsh
Secrest Wardle
Sommers Schwartz, PC
The Thurswell Law Firm
Thomas, Garvey, Garvey & Sciotti
Bredell & Bredell
Goodwin & Scieszka
Wisconsin
Guelzow Law Offices
Habush, Habush & Roltier
Hausman NcNally
Hupy & Abraham
Rozek Law Offices
South Carolina
Pierce, Hems, Sloan & Wilson
McLeod Law Group
Yarborough & Applegate
Bland Richter
Fayssoux Law Firm
Harrison, white, Smith & Coggins
McGowan, Hood & Felder
Law Office of George Sink
Twenge & Twambley
Clore Law Group
Furr, Henshaw & Ohanesian
Joye Law Group
Chappell, Smith & Arden
Covington, Patrick, Hagins, Stern
Mark C. Tannenbaum, PA
Minnesota
McSweeney Langevin
Bremseth Law Firm
Goldenberg Law
Kosieradzki Smith Law Firm
Pritzker Olsen
Lord & Faris
Harper & Peterson
Sieben, Grose, Von Holtum & Carey
Pearson, Randall & Schumacher
Suk Law Firm
West Virginia
Berthold Law Firm
Bucci, Bailey & Javins
Fitzsimmons Law Firm
Law Office of Kelly R. Reed
Preston & Salango
The Giatras Law Firm
Warner Law Offices
Tennessee
Watson Burns
Greg Coleman Law
Gilreath & Associates
Deal, Cooper & Holton
Summers & Wyatt
Miller Law Offices
Rosenblum & Reisman
To learn more go to: LitigatorAwards.com
Media Contact
Amy G. Harris
2014 Litigator Awards
(800) 992-9049
info(at)LitigatorAwards(dot)com