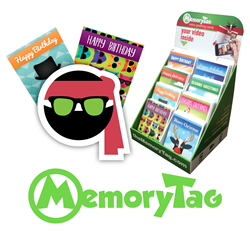 MemoryTag Cards have become a one-stop, easy-grab gifting solution.
Woodbridge, CA (PRWEB) November 13, 2014
Traditional cards are boring. At least, that is what tech company, The MemoryTag LLC, is eager to point out in their TV commercials. Large greeting card companies are scrambling to retain market share while smaller companies pounce on the opportunity to give an $8 billion industry what it demands. At the forefront of this revolution is MemoryTag.
MemoryTag is looking to breathe new life into the greeting card market this holiday season. Hitting 7-Eleven stores across the nation this week are MemoryTag video cards, which allow the buyer to use a phone to embed videos and digital gifts into the cards.
To support their claim as the Best Cards ever, MemoryTag has taken extensive strides to set themselves apart from the masses through the use of vibrant color, quirky designs, and digital multimedia and gifting options. The products are conveniently packaged with their own envelope. The unique code within each card is scanned with the user's phone to begin a fun and easy customization process that is unique to MemoryTag products. The app is free and available now on both Apple iTunes and Google Play.
All of this is included for the same low price as a traditional greeting card.
Retailers are finding that MemoryTag's streamlined displays are an ideal greeting card solution. Convenience and specialty stores who did not have the aisles of real estate to devote to traditional cards are now able to grab their piece of an extremely profitable industry. Endcap and counter top displays are quickly finding their way into stores that are hoping to profit from the added impulse power.
Consumers are happily benefiting as well. MemoryTag Cards have become a one-stop, easy-grab gifting solution. Every MemoryTag card is the perfect card since it is the included video that makes it truly special. The fact that the card IS the gift (with MemoryTag's digital gifting options) makes the entire gift-giving process a no-brainer. The card designs are anything but traditional. Shoppers looking for designs that involve ninjas riding unicorns or zombies eating pancakes need look no further. The card selected will be unique in more ways than one.
MemoryTag products became available at select 7-Eleven stores beginning the week of November 10, 2014. For those who prefer shopping online, Club Ninja is MemoryTag's monthly membership plan. Receive new MemoryTag cards and stickers every month for only $9 per month! You may also make purchases through their online store.
Visit memorytag.ninja for more info. Find MemoryTag related updates and contests on Facebook, Instagram, Twitter, Google+, YouTube, and Pinterest.