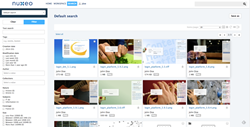 By providing the most scalable, interoperable, extendable, and usable platform for building Digital Asset Management, Case Management, and Document Management applications, this release considerably raises the bar for the ECM industry.
New York City, NY (PRWEB) November 12, 2014
Nuxeo, the provider of the Nuxeo Platform, a highly customizable and extensible content management platform for building business applications, today announced general availability of the Nuxeo Platform 6.0. Nuxeo also provides SaaS based products and services to help build, manage, deploy and support Nuxeo Platform applications to dramatically improve how Nuxeo customers produce, manage and use Nuxeo Platform 6.0.
"The release of Nuxeo Platform 6.0 continues Nuxeo's leadership in the content based applications development market," said Eric Barroca, Nuxeo CEO. "By providing the most scalable, interoperable, extendable, and usable platform for building Digital Asset Management, Case Management, and Document Management applications, this release considerably raises the bar for the ECM industry."
The most scalable and cloud ready ECM platform
With the addition of Elasticsearch, the Nuxeo Platform has added a very powerful, scalable, and versatile index engine. This enables the horizontal scaling of the query engine, acting also as a high-level data cache independent from the database, and tuning of each system, providing incredibly high-speed search and virtually unlimited scalability. Another major milestone is the inclusion of MongoDB as a NoSQL-backend storage option offering high flexibility, easy sharding and replication capabilities. The Nuxeo Platform 6.0 also adds strong capabilities for developing, customizing, and deploying cloud based applications on public and private clouds. The Nuxeo 6.0 architecture is well tuned to take advantage of scaling out on AWS and other cloud providers.
Nuxeo Platform 6.0 cloud, performance and scalability enhancements:

Elasticsearch powered query engine that is fully compatible with the Nuxeo Platform existing query languages and APIs, enabling distributed, parallel search query execution - Existing Nuxeo Platform customers can switch to Elasticsearch without changing their applications
Redis-backed distributed job infrastructure, enabling fault-tolerant long running jobs (ex: video conversion, document rendering, etc.)
New JSON-based persistence engine - in addition to the SQL-based engine
Freeform storage and indexing of audit log entries making the audit log a powerful data store for reporting and analytics powered by Elasticsearch
Native support for faceted search in Nuxeo Studio
Addition of a Docker and CoreOS based PaaS infrastructure for Nuxeo applications that completely automates and controls large Nuxeo Platform clusters
Nuxeo 6.0 provides major improvements in user productivity
Nuxeo Platform Users benefit from improvements in look and feel, search, and in the authoring, loading and management of content.
New features for Users include:

New Spreadsheet Mode allows users to have a spreadsheet like user interface for bulk-editing metadata. This new add-on allows the users to edit data in the repository in a spreadsheet-like grid.
New support for collections, also called lightbox for digital asset management users, are lightweight containers for objects
Facets are now available on any content listing
Content listings powered by Elasticsearch that create optimized, efficient and dynamic views for users, including on-demand column selection
Bulk creation and import from the main interface with the ability to set metadata, tags and collections for all new documents
Native mobile functionality and iOS applications
With the release of the Nuxeo Platform 6.0, Nuxeo provides greater support for building and accessing applications from mobile devices. Nuxeo has released a native iOS application for the iPad to allow users to view and manage their repositories as well as new SDKs to connect to and build mobile content management applications.
New mobile features include:

Native SDKs for iOS and Android
Native iPad application to browse content, with selective offline sync
Mobile Web UI for browser based mobile access to the platform
Integration and interoperability with existing and future applications
Nuxeo Platform 6.0 can connect to many existing enterprise platforms and applications through open standards and middleware, such as the Mule Enterprise Service Bus. The Platform API also supports rapid building of custom integrations.
Integrations and interoperability features include:

New native connector for the Mule Enterprise Service Bus, exposing the complete REST API, allowing Nuxeo Platform applications to exchange data and trigger workflow and business automation
SAML2 and OAuth2 support for delegated authentication
SCIM for user management
Support for CMIS 1.1
Ability to access the Elasticsearch query engine from CMIS
Nuxeo Platform 6.0 provides the best developer platform
The Nuxeo Platform continues to widen its lead in the industry by providing developers with a powerful and agile platform to build content based applications. The platform is easily extended thanks to its plugin infrastructure and next generation architecture.
Developer oriented features include:

REST API improvements and enhancements including new query endpoints, additional support for building connectors with auto-discovery mode and content enrichers for quickly building client side applications
New client SDK for JavaScript and iOS to access all of the resource-oriented endpoints and operations for documents, users, and directories
Elasticsearch powered query engine
New JSON-based storage engine for the repository
New productivity tools in Studio for developers including workflow and forms
Seamless cloud development for lightweight coding with Codenvy
Continued forward compatibility
Advanced Desktop Sync features: metadata edit, integration with web applications
Nuxeo Platform 6.0 is available for download immediately. The installation wizard gives access to a free 30-day trial of Nuxeo Online Services, a portal providing maintenance upgrades, easy installation of add-ons, Nuxeo Cloud, and Nuxeo Studio for easy configuration and customization of the platform.
A special release webinar will be held November 18 at 3pm ET. More information about the Nuxeo Platform is available at http://www.nuxeo.com/en/products/nuxeo-platform.
About:
Nuxeo dramatically improves how content-based applications are built, managed and deployed, making customers more agile, innovative and successful. Nuxeo provides a next generation, enterprise ready platform for building traditional and cutting-edge content oriented applications. Combining a powerful application development environment with SaaS-based tools and a modular architecture, the Nuxeo Platform and Products provide clear business value to some of the most recognizable brands including Verizon, Electronic Arts, Netflix, Sharp, FICO, the U.S. Navy, and Boeing. Nuxeo is headquartered in New York and Paris. More information is available at http://www.nuxeo.com.