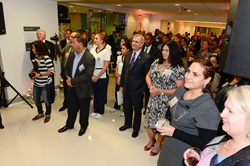 Miami, Florida (PRWEB) November 12, 2014
West Coast University (WCU), a regionally accredited, private university focused on health care education, opened the doors of its new Miami campus to welcome local health care, education and civic leaders at a grand opening event October 23rd. Guests included the Florida State Surgeon General, Dr. John Armstrong, Doral Mayor, Luigi Boria, representatives from the Miami-Dade County office of the Mayor, community leaders from the Miami-Dade area, and senior representatives of major health care providers in South Florida. Dr. Armstrong addressed the crowd about the growing demand for health care providers in Florida. He said, "West Coast University in Miami will educate nurses with innovation to meet our present and future health care needs."
WCU Miami offers a bachelor-level nursing degree in the Miami-Dade area from its new campus, located at 9250 NW 36th Street, Doral, features interactive classrooms, advanced technology, and a 5,000-square-foot, high-fidelity Simulation Center for hands-on, no-risk learning.
"We are specialists in training the confident, highly educated nurses who will have the skills necessary to impact the local health care community positively when the students graduate," said Mr. William Clohan, President/CEO of West Coast University. "We have invested thoughtfully in our new Miami campus, from technology to curriculum to faculty to clinical opportunities, to ensure that we're giving our nursing students all the resources they will need to be successful."
WCU brings a student-centric approach to health care education that supports its mission of providing students with the tools and learning environment necessary to ensure that graduates are prepared to enter the health care community as leaders in their field. Classes start five times a year and boast a low faculty-to-student ratio. From admission through graduation, faculty and staff remain involved in providing the resources students need to succeed. For students who are struggling academically and financially, WCU provides tutoring, study and time-management skills training, financial aid and scholarships (for those who qualify), and career services that feature résumé-writing workshops and career guidance.
The Bachelor of Science in Nursing (BSN) degree is a 39-month program. The curriculum focuses on three complementary areas: classroom and laboratory learning, clinical experience gained on-site with local hospital affiliates, and hands-on training in five specialized Simulation Center bays. The LPN-to-BSN program is a 34-month program for Licensed Practical Nurses who want to earn their BSN.
About West Coast University
Founded in 1909, West Coast University is a private institution focused on health care education. WCU offers both undergraduate and graduate health sciences degrees. WCU campuses are located in Los Angeles, Orange and San Bernardino counties in California, as well as Dallas, Texas and Miami, Florida. Through our commitment to academic excellence, fostering of a student-centric culture, and investment in advanced campus facilities, WCU strives to stay on the leading edge of the health care industry, preparing graduates for a career they love and one that meets the needs of the community. WCU is institutionally accredited by the WASC Senior College and University Commission (http://www.wascsenior.org) and the University's nursing program is accredited by the Commission on Collegiate Nursing Education (CCNE). WCU is approved by the Florida Board of Nursing. For more information, visit http://www.westcoastuniversity.edu.